By GARY R. RASBERRY
grasberry@dailystandard.com

A battle of two state-ranked teams certainly gave the numerous fans at Celina Intermediate School its money's worth on Tuesday.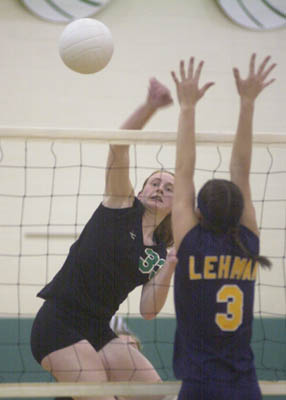 Celina, 17th in the Division II poll, battled Lehman, eighth in the Division IV poll, for three games before the Cavaliers came out with a 13-15, 15-9 and 15-8 win in nonconference action. Lehman improves to 6-3 on the season as the Bulldogs drop just their second match in eight contests this season.
The match featured long rallies for points, heavy hitting from both sides of the net and some spectacular digs to save points.
Celina coach Nikki Taylor-Etzler was disappointed in the loss, but was pleased with her team's effort.
"That's why we have them on our schedule," Etzler said of Lehman. "Their game and our game is very quick. The competition we've been playing hasn't been that quick and we could make the little mistakes and still win. This match gives us focus and prepares us for the better WBL teams down the road as well as tournament."
In game one, the Bulldogs and Cavaliers traded the lead three times and forced four ties before Celina stopped short a Lehman rally and came back with the serve. Betsy Hone served out the match as Lehman was called for an illegal rotation to make it 14-13 and then a kill by Kelsey Fleck ended a strong match at 15-13.
Things looked to be going Celina's way in the start of game two as the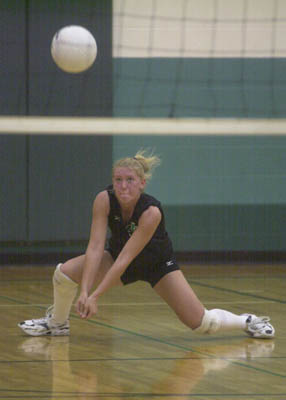 Bulldogs got out to a 4-3 lead on an ace by Jamie Siefker. The Cavaliers, however were able to recover on the jump-serving of sophomore Jessica Butt. Butt had two aces and a Bulldog error pushed the Lehman lead to 6-4. An ace by freshman Emilee Seger made it 7-4.
Celina managed another point to cut it to 7-5 before the Cavaliers ran off five straight points to put the game out of reach.
In the third game, Lehman won the serve and slowly scored points. It took 16 sideouts just to get the score to 5-4 in favor of Lehman as both teams scored on the defensive side of the net.
Ashley Newcomer, another jump server, tried to push the lead with an ace to make it 6-4 before Celina tied the match with back-to-back kills by Sief-ker. The Cavaliers got the lead back on ensuing serves only to see the Bulldogs get the serve right back and tie the game up.
The fun lasted until 8-8, which took six sideouts to achieve, before Lehman finally got the spark to go up for good. Newcomer added another ace and several kills to push the Cavaliers toward match point. The final point coming on a long spike out by Siefker.
"It was a great match," said Lehman head coach Greg Snipes. "This was a big win for us. We knew Celina has a great program and that they would have a great team. It was big that we won tonight."
Said Etzler: "We've scouted Lehman and I think they played one of their better matches tonight. Our girls stepped it up as well but I think there were opportunities where we should have pushed ahead and we didn't."
Siefker led the Bulldogs with 11 kills. Fleck added eight with Traci Stoner adding six, many coming off shoot-sets for points. Stoner added 13 digs and 28 assists while Siefker added 10 digs.
Celina returns to Western Buckeye League play on Thursday at Bath before traveling to the Pickerington Invitational on Saturday.
Phone: (419)586-2371, Fax: (419)586-6271
All content copyright 2003
The Standard Printing Company
P.O. Box 140, Celina, OH 45822