By MARC TOBIAS
mtobias@dailystandard.com

COLDWATER — St. Henry's volleyball squad continued to roll as it kept its quest for a Midwest Athletic Conference title alive by knocking off Coldwater 15-9 and 15-5.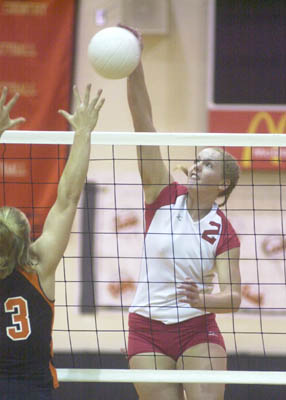 Lindsay Hess and Lindsay Puthoff were able to control the majority of play from their frontline positions, as the Redskins duo combined for 12 kills and eight blocks.
"I thought we played a real consistent game and took control of both nets. Lindsay Puthoff did just a great job at the net as did Lindsay Hess, just on overall great team effort," said St. Henry coach Lori Schwieterman.
Schwieterman added she would expect nothing less than a top performance out of Hess and Puthoff.
"We tell them that's their job, that's what we expect out of them and they do a great job at it," Schwieterman said.
Coldwater coach Jeanette Vaughn also had nothing but high praise for the Redskins duo.
"They were our main focus going into the game, the two Lindsays, and we worked a great deal on how to block those girls," Vaughn said. "We knew they were going to be tough to stop, and they were. They both played well and they hit where we weren't. We got hands on a few balls, but defensively we struggled a little bit and maybe should have gotten a hand on a few more balls, but they're tough to shut down."
Coldwater actually opened with an optimistic start as it grabbed a 5-1 lead in the first game. Brittany Klenke helped spark the Cavaliers run by scoring the third and fourth points on a block and a kill.
Unfortunately for the Cavs, that's when St. Henry kicked it into high gear.
The Redskins outscored Coldwater 14-4 the rest of the game to take the 1-0 lead in the match.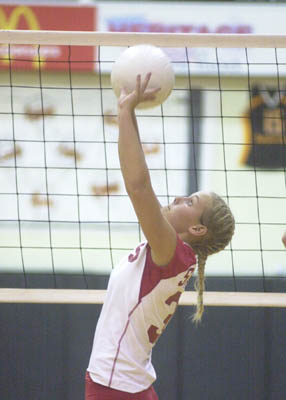 "We definitely got off to the start that we wanted, but we kind of got satisfied with where we were, and instead of pushing forward we just let them right back into it," Vaughn said. "We made a few mental mistakes and things started going back their way, and when they're on, its hard to stop them."
Puthoff had five kills for the Redskins in the opening game.
Game number two didn't go much better for the Cavs, as St. Henry built an early 6-1 lead and was never really threatened the entire game.
"I told them take care of the ball on our side of the court, everything else will fall into place for you and that's what we did," Schwieterman said.
Christie Hess also had a big game for the Redskins, as she accumulated five kills to go with one block.
Jackie Kahlig led Coldwater with five kills and two blocks while Cavs teammate Katie Homan had four blocks and one kill.
St. Henry improves to 12-1 and more importantly 5-0 in the MAC, while Coldwater falls to 7-6 (1-3 MAC).
The Redskins will next be in action Saturday at the New Knoxville Invitational while Coldwater returns to play Thursday at Parkway.

Phone: (419)586-2371, Fax: (419)586-6271
All content copyright 2003
The Standard Printing Company
P.O. Box 140, Celina, OH 45822