By RYAN HINES
rhines@dailystandard.com

With starting quarterback Joe Kanney lost for the season with a broken hand, Celina went from a split-veer offense to more of a run-oriented attack.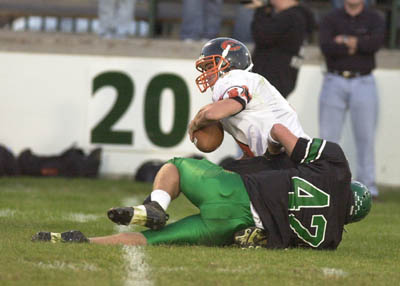 It took a half for the Bulldogs offense to get on track, but in the second half the Celina running game dominated play leading to a 38-10 win over Elida in a Western Buckeye League contest.
Celina, which stops a two-game losing streak, improves to 3-2 overall and 2-2 in the WBL while Elida falls for the fourth consecutive time and stands at 1-4 overall and 0-4 in league play.
It was a struggle for Celina in the first half leading just 13-10, but the Bulldogs scored on three straight possessions in the second half to blow the game wide open.
"We were in the game the first half because we didn't make mistakes," said Elida head coach Chris Etzler. "In the second half it was a totally different story and you have to give Celina credit because they took advantage of it and punched it in, but we made it easy for them. The game boiled down to our mistakes and there's no doubt about that. We have no margin for error and when we makes mistakes we can't overcome them with as young as we are."
Elida miscues gave Celina the spurt it needed in the second half and the Mercer County Bulldogs took full advantage.
On Elida's second possession of the second half, Celina's Ethan Swaney caused a fumble on a big hit from his linebacker position and teammate Brian Gagle was able to recover the loose ball at the Elida 21-yard line.
Four plays later, Gagle ran the option from his quarterback position and ran off tackle for a 10-yard touchdown to give Celina a 20-10 lead.
Elida's next possession was a three-and-out and the ensuing punt was returned by Celina's Jon Beougher for 25 yards to the Elida 23-yard line.
A nine-yard run by Gagle and a 10-yard sprint by Andy Harner set up a Brady Bonifas three-yard plunge into the endzone giving Celina a 26-10 advantage.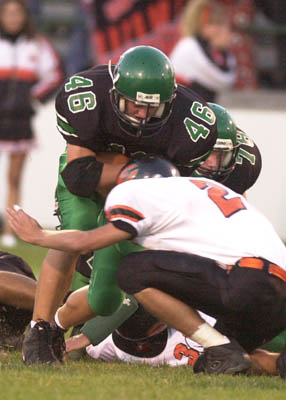 The Celina defense again held strong on Elida's next possession and got the ball back for the offense at the Celina 35-yard line. Bonifas then scored his third touchdown of the game on the second play from scrimmage. Bonifas took the pitch on a sweep broke two tackles and then followed his blockers down the sidelines for a 61-yard touchdown run putting Celina on top, 32-10 capping a 21-point third quarter for the home team.
With the running game going well, Celina opened up its passing attack in the fourth quarter to try and get first-time starter Brian Gagle some valuable experience at quarterback.
Gagle passed for 65 of his 74 total passing yards in the fourth quarter, including a five-yard touchdown pass to Tim Homan to conclude the scoring in the contest.
Elida jumped out to a 3-0 lead on a 36-yard field in the first quarter only to see Celina answer when Gagle had a one-yard touchdown run. Bonifas added a two-yard touchdown run in the first quarter while Justin Dunlap added a one-yard scoring scamper in the second quarter.
A strong blocking night by the Celina offensive line made up of Sean Boley (right guard), Jeff Kunk (left guard), Brandon Barker (center), Jason Kinney (left tackle) and the combo of Swaney and Adam Tindall (right tackle) led to a 129-yard effort by Bonifas while Gagle added an 85-yard performance.
"The key for us tonight was the play of our offensive line," said Celina head coach Mike Fell. "They don't get a whole lot of credit, but we saw a lot of good blocks out of them tonight."
"They started to wear us out on the offensive line and defensive lines in the second half," said Etzler. "Our offensive mistakes caused our defense to be out there more and it wore us out up front."
Celina is back in action Friday at Bath.
Phone: (419)586-2371, Fax: (419)586-6271
All content copyright 2003
The Standard Printing Company
P.O. Box 140, Celina, OH 45822