By LYLE KITTLE
Standard Correspondent

COLDWATER — Alex Hoyng threw for 338 yards and four touchdowns as Coldwater celebrated its homecoming and improved to 5-0 with a 42-21 win over St. Henry in a Midwest Athletic Conference game. The Cavaliers are 3-0 in the conference, while St. Henry dropped to 2-3 on the year and 1-3 in the MAC.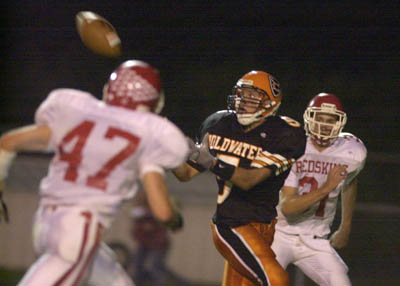 Craig Wellman pulled in 10 of Hoyng's passes for 192 yards and touchdowns of 50, 52, and five yards. Ross Homan caught Hoyng's other scoring toss and later ran 62 yards for a score while Josh Fullenkamp had a 10-yard run for a score.
Coldwater's offensive line gave Hoyng more than enough time to identify the coverages and sort out his receivers. St. Henry's defense sacked Hoyng just once and the Cavaliers' receivers had enough time to slip behind the secondary.
"Our offensive line is the most inexperienced part of our football team," Cavaliers coach John Reed said. "They're committed to improving. We almost have two practices each day. We work as a team and then when we're done, the linemen go off and work some more. Nobody knows what Zach Schwieterman or Tony Homan or Kyle Uhlenhake or Brian Brunswick or Joe Huwer or Andrew Wenning did, but the coaches know. The game isn't won by the guys on the outside, it's won by the guys in the trenches."
"That was huge (the lack of pressure)," said St. Henry coach Jeff Starkey. "We thought we could put a little pressure on him, but their offensive line obviously played a great game."
Hoyng had a potential fifth touchdown pass go by the wayside on Coldwater's first possession. Fullenkamp caught a 44-yard pass from Hoyng, but had the ball stripped away by the Redskins' defense on the one-yard line.
Coldwater got its first score on the next possession when Hoyng hit Wellman for a 50-yard strike.
After St. Henry's Jeremy Schwieterman returned a punt for a score for the second consecutive game, Coldwater got its second score on Fullenkamp's 10-yard run. Trevor Stromblad added the point after for a 14-7 Cavaliers' lead.
Coldwater's next series resulted in another Hoyng TD pass, this one to Homan for 11 yards.
St. Henry added another score before the half when Nathan Stahl hit Schwieterman in the left corner of the end zone for a 24-yard score.
Wellman caught another score from Hoyng in the third period, this one for five yards. The extra point missed and Coldwater's lead was 27-14.
St. Henry cut the lead to six early in the final period when Stahl hit Steve Sutter for a 30-yard pass for a score.
Coldwater effectively put the game away with 4:01 left in the fourth when Hoyng found Wellman streaking down the middle of the field and hit him in full stride for a 52-yard score.
"We try to find matchups, and it's really hard for someone to match up with Craig," said Reed. "He's so quick that he's by you before you can get to him. At this level, it's hard to find four people to match up with our receivers and we're blessed to have four burners out there."
The Cavaliers added an insurance score later when Homan broke through the middle and outran the Redskins for 62 yards and the final score of the game.
"The strength of their team is their defense," Starkey said. "They get off blocks, they get to the ball and they have a difference maker out there in 25 (Homan)."
Coldwater travels to Parkway on Friday, while St. Henry returns home for Homecoming to host Lima Central Catholic.
Phone: (419)586-2371, Fax: (419)586-6271
All content copyright 2003
The Standard Printing Company
P.O. Box 140, Celina, OH 45822