By MARC TOBIAS
mtobias@dailystandard.com

ST. MARYS — The St. Marys defense rose to the occasion once again, and Shawn Craft scored a pair of touchdowns as the Roughriders held off Van Wert 14-7 in Western Buckeye League action at Skip Baughman Stadium on Friday.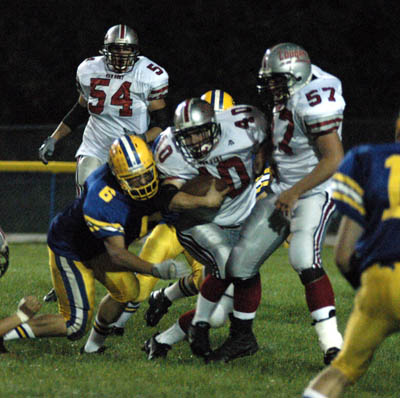 The last-place Cougars (1-4, 0-4 WBL) gave St. Marys (5-0, 4-0 WBL) all it could handle, including a chance to tie in the closing minutes of the fourth quarter.
Trailing 14-7, Van Wert freshman quarterback Jared Meyers tossed a 33-yard pass down the leftside to Curtis Krugh, setting up the Cougars with a first-and-goal from the Roughriders two.
On first down, Meyers had Jordan McClellan wide open on the right side off a play-action pass, but the pass was off target.
The St. Marys defense then dropped Krugh for a three-yard loss on a sweep play on second down. The Roughriders were tough on the run all night as Van Wert ran 20 times for negative five yards.
On third down, Meyers worked his way back to the original line of scrimmage at the two. Van Wert then went back to a spread formation, but Nick Yahl came busting around the right end and drilled Meyers for a 13-yard loss giving the Roughriders possession with 2:58 left in the game.
"I really like how our defense played when they were in that situation down there," said St. Marys coach Doug Frye. "One thing we do have is we have composure in pressure situations, you can't doubt that because we obviously have a lot of experience doing that."
St. Marys then worked the ball to midfield on a Justin Nagel 40-yard run, but two plays later the Roughriders fumbled the ball on a missed exchange, giving Van Wert one last gasp.
The St. Marys defense did its job one more time, sacking Meyers twice and forcing two incomplete passes to end any Cougars comeback bid.
Craft scored the first of his two touchdowns on a one-yard plunge with 10:02 left in the second quarter. Craft set up the scoring drive by breaking a 32-yard run two plays earlier.
Nagel set up the Roughriders' next score by busting a 55-yard gainer down the right sideline. Two plays later it was Craft again from one yard out for the winning score.
Nagel finished with 158 yards on 15 carries while Craft added 78 on 17 totes.
"St. Marys, to their credit, continue to do what their doing which is big plays," Hood said. "They haven't sustained drives all season long, the typical 15-play, four yards per play deal, they haven't been getting going. They hit a couple big runs on us and got inside the five and then their tough to stop. We gave up one too many big runs, we wanted to make them drive it because we didn't think they were capable of doing that. To their credit they played good defense and held us to one score."
Meyers had a fine game for a freshman quarterback, completing 21-of-31 passes for 196 yards against a stingy St. Marys defense.
For St. Marys, it's just another close win in its opening five ball games.
"The bottom line is we're 5-0 right now," Frye said. "In a week or two that's all anybody is going to remember anyways."
Frye even compared his squad to another Ohio team.
"I graduated from Ohio State, and I'm an Ohio State football fan, and I don't want to make our team exactly like theirs, but we seem to have some similarities to that team a year ago," Frye said. "We pull games out when we need to, and we take our level of play to another level when we need to, and we'll certainly have to do that next week, but that's been a great characteristic of this football team."
St. Marys is back in action when they host Shawnee.