By MARC TOBIAS
mtobias@dailystandard.com

When you have your top four golfers all make the Midwest Athletic Conference first team, then it's probably a pretty safe bet that you'll also win the conference team title.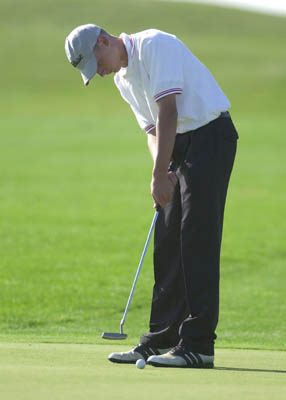 That's exactly what Versailles did at the Fox's Den in Celina on Saturday, as the Tigers shot a team score of 315, which bettered second-place St. Henry by 19 strokes.
Devin Chrisman led the Tigers and was the tourney's medalist with a round of 73. Nick Selhorst shot a 79, Max Frey an 80 and Matt Barton an 83 to join Chrisman on the MAC first team. Ryan Schlater and Luke Landis both shot 88 for the Tigers to make second team all-MAC.
"I'm real happy with what we shot," said Versailles coach Peter DiSalvo. "I have a couple guys I left at home that are as good as some of the guys here, the toughest thing for some of these guys is making the top six."
DiSalvo added his team has the potential to go to state.
"I think we can get to district without too much trouble," Di-Salbo said. "We'd like to do well, and maybe get to Columbus."
"I would take what we shot today and mail it in, because you get to the district and a lot of times the weather's bad and there's a lot of pressure," DiSalvo added.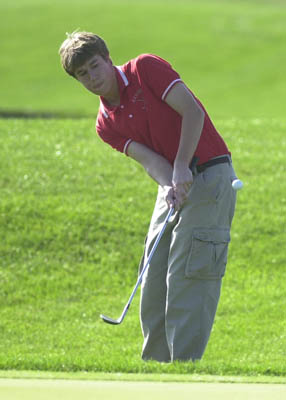 Chrisman shot a two-under par 34 on the front nine, and was three-under at one point on the back nine, unfortunately, the Tigers' ace bogeyed four of the last five holes to finish one-over par.
"He was medalist here in the Celina meet, I think he shot 70 in that, so I think he likes the course," DiSalvo said.
Scoring conditions appeared to be near perfect on Saturday, with most players stating the only real obstacle was the rough.
"I wasn't in the rough too much," Chrisman said with a laugh.
St. Henry placed second with a 334 total, followed by St. John's with a 338, Minster's 352 and Coldwater's 358. New Bremen tied Parkway for sixth at 359, followed by New Knoxville 360 Marion Local 373 and Fort Recovery 423.
St. John's golfer Matt Webb was runner-up to Chrisman, as he was just one shot behind with a 74.
"I'm pretty happy, I made a lot of putts and hit fairways and greens and just played well today," Webb said.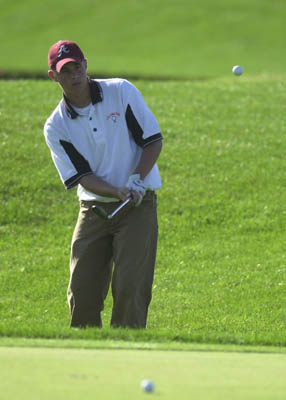 "That's the best round he's had since his first round as a freshman," said St. John's coach Tom Rekart. "He's always had the potential, but he's had trouble finishing rounds, but today he got off to a good start, putted well, kept it on the golf course and put up a good number."
St. Henry's Matt Dippold was a first-team MAC selection, and was one of four players to break 80, as he shot a 79.
"I didn't start very well because on the front I had two triple's (bogey's), but I came back strong on the back side and shot a 36," Dippold said.
Dippold tripled the fifth when he hit a ball in the water, and the eighth when he went out of bounds.
"I just started making pars, I made a par on nine after that triple, and then I had seven pars on back, one birdie and one bogey," Dippold said. "I'm pretty happy with the way I finished, just wish I could have done a little better on the front."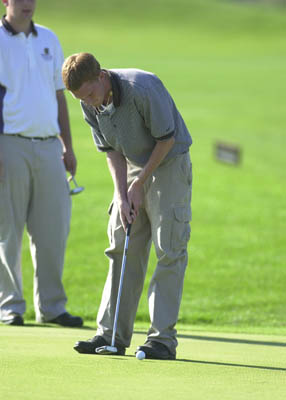 New Bremen's Josh Richardson, St. John's Adam Ricker and Minster's Greg Reithman tied for sixth, as all three fired an 81 to make the MAC first team.
"I got in the heather on the front side, and took a couple strokes to get out of that, so I could have shot better than that," Richardson said. "It was playing kind of rough in the heather, the greens were kind of dry and pretty fast. The pin placements were fairly tough, but some of them were in some fairly easy spots."
Other first team MAC selections were Coldwater's Adam Evers, Parkway's Trevor Krogman and St. Henry's Danny Koesters.
Second team all-MAC honors went to Coldwater's Matt Harting, New Knoxville's Scott Williams and Jason Shaffer, Marion Local's Tony Brunswick, St. Henry's Kyle Uhlenhake, Matt Kremer, Corey Gerlach and Jay Woeste, and Minster's Max Phlipot.
Honorable mention awards went to New Bremen's Scott Schmiesing and Craig Eiting, St. John's Chad Reynolds, Parkway's Austin Heath and Brian Shaffer, and Marion Local's Adam Kremer.