By GARY R. RASBERRY
grasberry@dailystandard.com

FORT RECOVERY — When talking about her team's 15-7, 15-4 win over Bath on Monday, Fort Recovery volleyball coach Jackie Kaup called it a work in process.
While the Indians had the points to spare to beat the Wildkittens at Fort Site Fieldhouse, getting that 15th point was a bit on the troublesome side in the first game.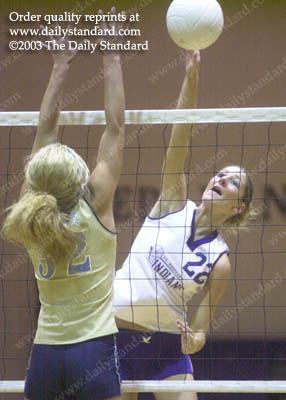 With Fort Recovery leading 14-7 and having Renee Schmackers, who had 11 service points in the game, going for the game point, a hitting error forced a sideout.
In fact, nine sideouts took place before Krystal Rammel, who had the other three service points in the game, nailed the ace for the game point.
"I lost track," Kaup said, referring to the number of sideouts. "We've been working on trying to finish the game. As you can see, it's still a work in progress. I have to give my girls credit, they rotated six times and didn't give up a point. We've improved in that fact. We don't let them have a couple points and sideout then let them have a couple more and sideout. We're slowly improving on the finishing part."
The Indians were up 5-1 in game one before the Wildkittens scored six straight to take a 7-5 lead. After a trading of sideouts, Rammel served up three points to make it 8-7. After Bath then lost the serve, Schmackers served six straight points to make it 14-7, setting up the battle of sideouts.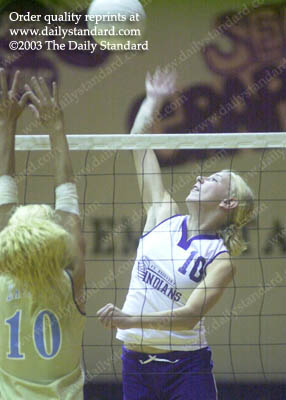 Having Stahl serving in the first spot in the rotation and Schmackers in the second turned out to be a strong combination in the first game with all the points, including a total of five aces in the game.
"That was a good rotation for us," said Kaup. "For some reason it just clicked. It seems to be scattered each game. They did a great job keeping the ball on the court."
The improvement was visible in the second game as the Indians were able to get points 14 and 15 on the same serve when Stefanie Westgerdes aced and had the match closed out on a kill by Jenn Stahl.
The Indians took advantage of having the height against Bath, whose tallest player was 5-9. The middle hitting combo of Briget Metzger and freshman Tiff Gaerke was dominant with Metzger, who had a slow start due to a hand injury in the preseason, being in strong form in tallying seven kills and four blocks.
"We hoped we would take advantage (of the height) tonight," said Kaup. "I know my girls blocked well and got touches on the ball. It's important for our success. (Metzger) is improving. Her injury took some time to get her back but she's getting better."
Veteran Bath coach Nancy Kizer knew it was a tough road.
"I felt we had the momentum going into that second game (after holding off game point in game one), but my girls just didn't get off to a good start," said Kizer. "They've played against some tough teams and had been able to play with some of them. We just couldn't get it going.
"(Size) has been a concern with a number of teams. ... It's hard to compete against some girls. ... Fort Recovery is a very nice team. They play in a tough league, not that we don't because we do, but the MAC is well-known."
Fort Recovery's junior varsity improved to 8-1 with a 15-11, 15-5 win over the Wildkittens.
The Indians (9-3) host St. John's on Thursday at Fort Site. Bath (5-9) returns to Mercer County on Thursday to face Celina in a Western Buckeye League showdown.
Phone: (419)586-2371, Fax: (419)586-6271
All content copyright 2003
The Standard Printing Company
P.O. Box 140, Celina, OH 45822