By JANIE SOUTHARD
jsouthard@dailystandard.com

ST. MARYS — There's no plumbing, no sewer system, no groceries, no phones, no restaurants. There's little food and the people are on the move constantly seeking shelter, usually carrying everything they own with them.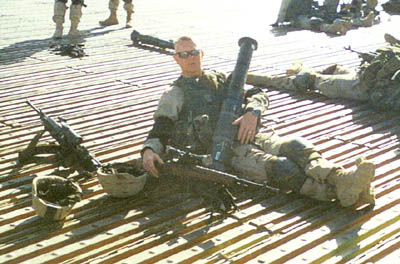 That's Afghanistan as Army Infantryman Jeff Albright has seen it during the past months.
A designated marksman with Task Force Panther, Albright recently spent a three-week leave in St. Marys with his wife, Marcie, and family and friends before heading back to Fort Bragg, N.C. Then he'll ship out with his unit to an overseas destination.
Designated marksman is the preferred military term for sniper, and Albright's shooting accuracy put him in that elite group of soldiers.
Shunning the word elite, he said he's just a little drop in the bucket, that there are thousands like him doing what they're trained to do.
"I am proud to serve America however I can. Yes, I'm a sniper, but it isn't a glamorous job. It's nothing like what you see on television. I'm simply doing what I've been assigned to do just like the cooks do and the medics," said the blond, blue-eyed soldier.
He spoke of the excellent equipment with which he's been provided, noting that good marksmanship in general boils down to practice, patience and good equipment.
"I use a thermal-maging scope at night that probably cost $25,000. If someone is smoking a cigarette a mile away I can see them because of the heat from the cigarette," he said.
He has served on many military operations in Iraq, one of which was six weeks spent protecting Iraqi Governing Council President Hamid Karzai.
But his main objective has been to locate weapon caches and to locate and capture Taliban forces.
Of his return to Fort Bragg he said he knows he's not shipping back to Afghanistan.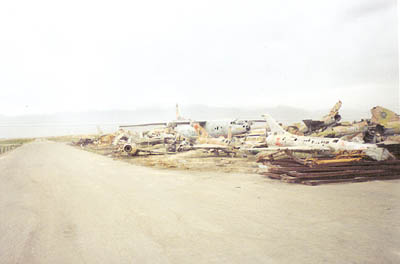 "But I can't say where we are going, other than it's an overseas destination," Albright, 31, told The Daily Standard last week in his living room in St. Marys with military gear stacked neatly in the corner.
There's a lot he can't say, but he did offer some observations on his life in Afghanistan during the past treacherous months. A capable photographer, he also spread out some photos of Iraq on the sofa.
The landscape is stark and the air is contaminated. Although Albright's photos are in color, the countryside and mountains almost appear in sepia tones.
Closer photos show thousands of holes in the mountains which line the horizon in almost every snapshot.
"Those are the caves you probably hear about on television. And, yes, people live in them including al- Qaida forces," he said, noting the caves often interconnect allowing undetected movement from cave to cave.
Of the air Albright said it reflects the unsanitary conditions in Iraq.
"It's just disease infested. Since there are no sewer systems, body waste is everywhere. Anywhere from 40 to 60 percent of the air we're breathing is dried fecal matter, which has been absorbed as dust," he said.
The United States provides medication to head off health threats, he said, and the troops are trained in good field cleanliness. Although, it may be a long time between showers.
"It's about 120 degrees there in the summer, and we carry a lot of heavy equipment. Sometime it's as much as three weeks before we can get a shower. That's why we're so excited to get the baby wipes," he said with a slow smile.
Another shot showed a half dozen captured al- Qaida kneeling in Albright's desert encampment with cloth bags over their heads to prevent them from seeing the layout of the camp, the weaponry and number of U.S. troops present.
Are they docile when captured? Do they seem like regular people caught up in a cause?
"No, and no. They are fanatics. Wild," Albright said.
A third photo was of what looked like a junkyard in the middle of nowhere.
"It is a kind of junk. It's old Russian planes from 20 years ago. You see that piled around everywhere. There's no way to clean it up. There's no machinery to move it, and even if you could there's nowhere to take it. I imagine it'll sit there forever," he said.
It's the same with automobiles.
Should the locals somehow acquire a vehicle and it fails, there's no way to fix it.
"No way even to get it to a garage if they could fix it. Remember, there are no tow trucks and no parts stores. So the old cars are abandoned wherever they break down," said the trim, toned sheriff's deputy who is on military leave from the Auglaize County Sheriff's Office.
Albright has 18 months left of his three-year term and does not plan to re-enlist.
"(Other military personnel) keep telling me I should re-enlist. They say 'this is you, man.' "
"No, it's not me. It's a job to do. When I leave I'll know I did what they asked me to do. But I'm coming home," he said firmly.
Although being in harm's way has not been an "enormous concern," Albright believes his family has suffered more.
"I may be over there sweatin', stinkin' and starvin,' but my wife is sitting here in this room not knowing and wondering. Definitely, I think here is harder," he said.