By SHELLEY GRIESHOP
sgrieshop@dailystandard.com

A 51-year-old Indiana man was killed Tuesday afternoon when the tanker truck he was driving rolled over onto its top in a ditch along Ohio 117 north of Mendon.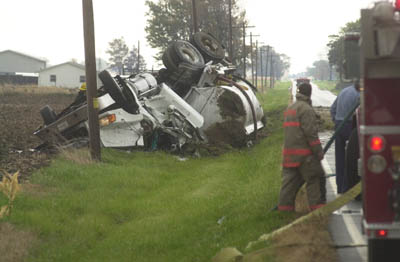 Pronounced dead at the scene was James R. McMillan of Huntington, Ind. McMillan was trapped in the crushed cab of the truck, which rolled down a five-foot ditch before coming to rest.
No other occupants were in the truck.
The report from the Wapakoneta post of the Ohio State Highway Patrol said McMillan was driving west on Ohio 117, one mile south of the Van Wert County line, when the truck drifted off the right side of the road and into the ditch about 3 p.m.
As McMillan attempted to re-enter the roadway, the diesel-filled truck rolled onto its side and then its top before sliding deeper into the ditch, the report said.
McMillan was wearing a seat belt at the time of the crash and was pronounced dead by Mercer County Coroner Dr. Tim Heinrichs. The deceased was extricated from the wreckage by rescue workers before being transported to Mercer County Community Hospital, Coldwater, by Rockford emergency medical service.
There was no spillage of diesel fuel from the truck's tank, the report said. The crash remains under investigation by the state patrol. Mendon, Rockford and Spencerville rescue workers assisted at the scene.
McMillan's death marks the sixth traffic fatality in Mercer County this year. Auglaize County has had two traffic fatalities since January.
Phone: (419)586-2371, Fax: (419)586-6271
All content copyright 2003
The Standard Printing Company
P.O. Box 140, Celina, OH 45822