aBy MARC TOBIAS
mtobias@dailystandard.com

ROCKFORD — It was a rough day for Parkway's volleyball squad, as it fell in two games to Crestview, 15-3 and 15-10.
Crestview dominated the first game behind strong play from Rachel Alvarez and Shea Dietrich, but the Panthers didn't help their cause as they made numerous mistakes.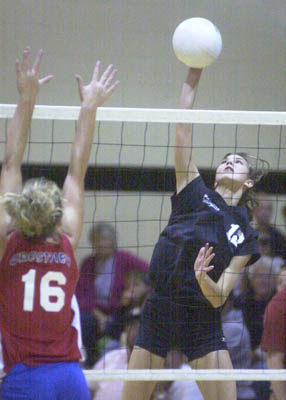 Crestview built a 5-1 lead on a Alvarez kill, before Parkway pulled with two at 5-3 on an Erica Yoder kill. That would be the last point the Panthers scored in game one, though, as the Lady Knights ripped off 10 straight points for the win.
Crestview scored its sixth through 12th points all on Parkway miscues. The Panthers hit four balls out during the stretch, had a pair of bad sets along with one net violation.
Dietrich then registered kills on two of the next three points to take game one for Crestview.
"Very happy, we've been trying to get ready for tournament and we've been making a lot of adjustments in our lineup, and I've been very pleased with our middles," said Crestview coach Diana Kiehl referring to Alvarez and Dietrich.
Alvarez recorded nine kills and two blocks while Dietrich had five kills, two blocks and two aces.
"They've been outside and we moved them inside for some hard hitting, and I've been very pleased," Kiehl added.
In the second game, it appeared as if Crestview was going to end the match quickly.
The Lady Knights built an 11-2 lead when Miranda Aueresch had a kill off an Alisha Etzler serve.
To Parkway's credit, it battled back to make game two a contest.
Parkway scored eight of the next nine points to cut Crestview's lead down to two at 12-10 on an Abby Harner block. Rebekah Roehm had three kills during the run to pace the Panthers.
"We're notorious for that second-game lull, and we just didn't keep our rhythm," Kiehl said. "They got us out of our rhythm and they hit real well, they're a good team."
In the end, Crestview proved to be as good as its 17-4 record indicates, as it rallied for three consecutive points to win, 15-10.
Courtney Springer also had a fine night for Crestview, as she picked up seven kills. Parkway was led by Roehm who had six kills and a block while Laura Art added three kills and two blocks.
Parkway finishes the regular season 7-14 and now will get ready for sectional play at Wayne Trace on Saturday. The Panthers play the second match of the day against Wayne Trace. The first match is scheduled for 1 p.m. Parkway's match will begin 20 minutes after the first match is completed.
Phone: (419)586-2371, Fax: (419)586-6271
All content copyright 2003
The Standard Printing Company
P.O. Box 140, Celina, OH 45822