aBy LANCE MIHM
lmihm@dailystandard.com

ST. MARYS — Almost 400 people showed up for a heated debate Wednesday night between the candidates who are running for two open seats on the St. Marys City Schools board of education.
Seven candidates are running, but only five showed up for the debate at the high school.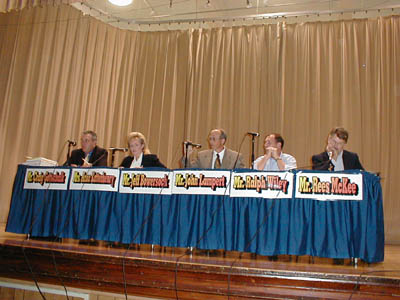 Incumbents Anna Katterhenry and John Lampert, along with former board member Rees McKee and newcomers Craig Gottschalk and Ralph Wiley debated and answered questions for more than two hours. Candidates Teena Ward and Jeff Bowersock did not show.
The most common topic discussed was the two levies that residents will vote on Nov. 4, a 1 percent continuing income tax for operating costs and a 6.92-mill property tax levy for building new schools. School officials have said the income tax will offset a future deficit, caused by cuts in state funding.
Both incumbents were in favor of the taxes, while the three challengers loudly opposed them.
"We wanted a long-term solution," Katterhenry said, defending why the new continuous income tax was placed on the ballot. "We didn't want to be back on the ballot in just a few short years."
Katterhenry, 39, 03235 Ohio 219, New Bremen, was appointed to the seat in March after former board member Jeff Ginter resigned. Both open seats on the board are for four years.
Lampert, who has been on the board for two terms, defended the reason for the board placing the levy for construction on the ballot.
"I look around other communities and see new schools and the opportunities those students have. In my opinion, these facilities have outlived themselves," said Lampert, 42, of 14581 Ohio 66N, St. Marys.
He said the average building in the St. Marys school district is 56 years old, and he feels construction now would save taxpayers millions of dollars in the future.
Gottschalk, 31, of 5076 Salem-Noble Road, St. Marys, called the levies "dangerous."
"Everyone is aware of the state situation. The state is robbing Peter to pay Paul. And 25 percent of the money for the new schools would come from the tobacco money. If these tobacco companies go under, that is money we are going to miss," he said.
Gottschalk said he feels the levels of communication in the district need to be broadened.
"It's been said that politicians and diapers need changed from time to time. Often for the same reasons," he said. "When I was working on a case that involved the school district, it dawned on me that there exists to a certain extent an institutional arrogance of certain people that think they can run the school board and not the other way around. We need people that are going to step up and hold staff, administrators and teachers to some degree of accountability."
Wiley, 36, 123 Augustus St., St. Marys, said he does agree with the proposed plan for the new schools.
"I've talked to a lot of people who do not like the proposed location of the new school," Wiley said. "As a candidate, our kids deserve the best, but only the best we can afford. I think we need to talk to everybody and find out what they want before we make a plan for new facilities. I do not agree with the current plan."
McKee, 49, 121 S. Perry St., said he believes the 1 percent operating levy is excessive for the current needs of the district.
"Everybody pretty much knows where I stand on this issue," McKee said. "These levies need to be defeated and we need to come back with another plan. We need to put two new people on this board."
Lampert argued the current plan for both taxes was the best option available.
"The income tax is a fairer tax for everyone to pay," he said. "With the school (construction) levy, we looked at six different options. I feel that all of the negative options were ruled out and the best one was put forward."
Both incumbents said the continuous income tax was set up so taxpayers would not need to be approached for another levy in a few years. But the challengers said that takes the power out of the taxpayers' hands.
"It's one of the few powers we still have — the purse straps," Gottschalk said.
Gottschalk added that he feels meetings behind closed doors need to be eliminated, citing the appointment of Katterhenry to the board in March. Katterhenry was appointed after board members admitted to discussing the candidates amongst themselves and not in a public meeting, which is a violation of Ohio's Sunshine Laws.
McKee said he feels many of the staff and parents are afraid to speak out because they fear backlash from the administration. He said that problem had to be addressed so communication could be opened up.
McKee formerly served on the board from 1994 to 2002. He works at Goodyear and is married with three grown children.
Gottschalk, an attorney in Lima, is married and has two children with another on the way. One child is in school.
Wiley, 36, is married and has three children, two still in school. He is plant manager at Murotech in St. Marys.
Katterhenry is the owner of Laco Laundry and Dry Cleaning in St. Marys. She is married and has five children.
Lampert is married and has three children, one still in school. He works at Crown Equipment Corp.
Ward and Bowersock were not available for the debates, but did offer comments for their candidacy in previous interviews.
Bowersock, 48, 739 Augustus St., St. Marys, is a supervisor at Plastipak in Jackson Center. He is married and has two school-age children.
"I want to listen to concerns of the people," Bowersock said. "I want to maintain our current system of education at the very least, but I am against the levies as currently designed. I'm not sure if the money will still be there with the current shape of our economy in the state."
Ward, 45, resides at 320 N. Vine St. She is assistant manager at the Certified Oil service station in St. Marys.
"I want to keep giving to the community," Ward said. "I had to give up my city council seat when I ran for mayor and lost in the primary. I wanted to try something else of interest to me and give back to the community."
Ward refused to comment on the school levies.