By MARC TOBIAS
mtobias@dailystandard.com

After a less than stellar summer soccer season, the Celina girls' soccer team was hoping to get off to a good start with a few good showings against some quality competition.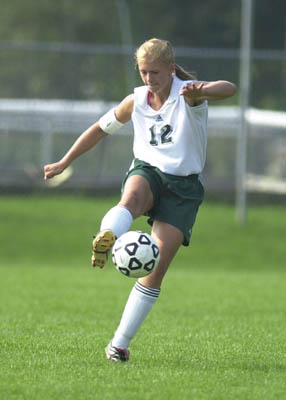 After losing eight seniors and the school's all-time leading goal scorer in Betsy Hellwarth, expectations weren't as high as previous seasons.
"I know a lot of people had doubts about us, we lost our main scorer and they thought we would pretty much fall apart," said senior forward Laura Bonvillian. "I think we kind of knew together that we were going to be better than most people thought we would."
Part of those concerns arose with a lack of scoring during the Bulldogs' summer camps, and part of it came with having to revamp a lineup that lost a lot of starters from the previous season.
"You always believe you have a chance to win the game, but honestly looking at the schedule at the beginning of the year, I thought we could possibly be 2-3, or 1-4 just because I wasn't sure what we're going to do offensively," said Celina coach Dean Liggett. "During the summer and during the scrimmages we weren't scoring goals."
Part of that stress was alleviated by a Bulldogs defense that has been able to shutdown the majority of their opponents.
Anchored by Laura Snyder and Kelli Williams, arguably the best sweeper and keeper in the Western Buckeye League, the Bulldogs defense was able to carry Celina to some big early season wins.
The defense held Findlay and Piqua to one goal while shutting out Elida, and the Dogs were quickly out of the gates at 4-0-1.
"That definitely exceeded my expectations, I didn't think we were going to do quite as well against Findlay and Piqua, but I'm glad we did because that gave girls confidence for the rest of the season," Snyder said.
"I think its safe to say the defense probably carries the team 90 percent of the time, we had a good run towards the end of the year that we were scoring four or five goals which was nice, but at the beginning of the year there were a lot of 2-1, 1-0 and 2-0 games that the defense was there," Liggett said.
Celina shut out its opponent seven times this season, with Williams starting all seven, and back-up keeper Laura Kuhn finishing off three of those shutouts.
Williams has saved 111 shots and her goals against average is a very respectable 1.19 goals per game.
"We have a lot of confidence in Kelli back in the goal and Laura Snyder back on defense, you just know they're going to get it up to you so you can score and they're not going to put any pressure on the offense by giving up goals," said senior forward Beth Braun.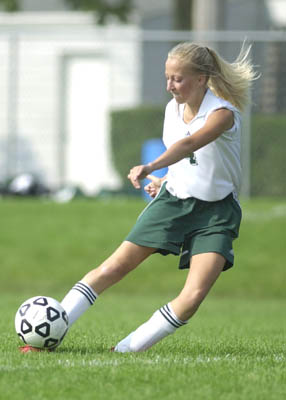 Liggett added to those remarks saying he believes Snyder was the best defensive player in the league this year, but added you can't forget about the contributions made by Robin Snyder and Allison Hoying.
Robin Snyder in particular has had the task of marking the opposition's top threat week in and week out, and it's safe to say she has passed with flying colors.
With the defense appearing to be solid, the offense had time to find its groove. It didn't take the Bulldogs long to find that scoring touch, but instead of one or two scorers, Celina had closer to a half dozen girls putting up solid offensive numbers.
Brittany Riesen leads Celina with nine goals, and her forward counterpart Braun has seven goals and Bonvillian six.
Jenna Schleucher, who has been asked to play both a defensive midfielder and be more offensive in other games has added seven goals of her own. Like Schleucher, many Bulldogs have been asked to fill certain roles during the season, and they've done it without any ego's infringing on the team's chemistry.
"During scrimmages we were kind of shaky because we didn't know exact positions and we didn't know how well we'd do this year, but the first couple of games we got our confidence up and we started clicking and from there we just kept rolling," Schleucher said. "The subs that come off the bench clicked right in."
Two of the biggest subs this season have been Shay Adams and Lindsey Miller. The duo have combined for 11 goals and eight assists, including some big moments such as Adams' game-winning goal late against Findlay.
"This year everybody gets along, and everyone is competing for positions, but a lot of people share time," Schleucher said. "So it's not about who starts and who doesn't start because everyone plays a lot and everyone is really good friends and get along on the team."
With 34 assists on Celina's 50 goals this season, it's easy to see that the team concept is represented well on the field of play.
"The pressure isn't put on one person, and I think that really helps the team dynamics for us to work well together. We all know we can score so it's not one person being selfish," Bonvillian said.
Every season has it's adversity though, and that adversity for Celina came at Defiance. Heavily favored, Celina ended up tying Defiance, 2-2, in a game that would later prove to cost Celina the WBL title as it finished 7-0-2 in the league, second to Elida who was 8-0-1.
"It kind of let the team down, but it definitely didn't discourage us for the rest of the year," Laura Snyder said. "I think it was kind of an eye opener because it taught us all that you have to wake up, things aren't going to just come for you, you got to start pumped and you can't underestimate teams."
Liggett said the game led to other positive changes, such as the offense playing a more tactical game, with the girls making better runs and an improved passing game that featured a lot more combination passing instead of just long balls down the field.
Thus after a surprising start, and steady improvement through the season, the Celina girls found themselves tied for the best regular season record in school history at 13-1-2.
The bar has been raised now, though, and this group of girls are looking for bigger things, like winning a district championship for the first time in school history.
"I'd like to be district champs and possibly go further. When I was a sophomore we went and we won our sectional title and got runners-up in the district, but I believe we can bring it farther this year and have a little fun," Laura Snyder said.