Celina to meet Findlay again in tournament
By MARC TOBIAS
mtobias@dailystandard.com
FINDLAY — Facing a two-goal deficit, the Celina girls soccer team rallied for three straight goals to defeat Bowling Green and keep its season alive in the sectional championship at Graham Memorial Soccer Stadium.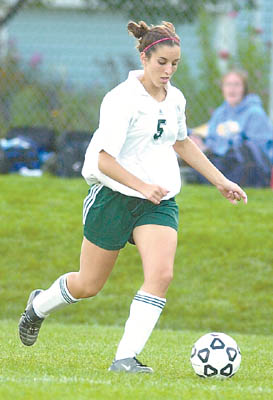 Robin Snyder led the Bulldogs rally by scoring a pair of goals to tie the game at 2-2 and then Lindsey Miller completed the comeback by scoring a goal with 16 minutes to play for the 3-2 final score.
The Bulldogs (14-1-2) now move on to face Findlay (15-3) in the district semifinals in Findlay on Wednesday at 5 p.m.
It was a sluggish beginning for the Bulldogs, and it only took five minutes before the slow start cost them.
Lisa Chalupa took a free kick that bounded through the Celina penalty area. When no Bulldog cleared the ball, Dana Chalupa chested home the game's opening score.
"That gave us a lot of confidence because their record was a lot better than ours, and we started thinking, hey we can hang with these guys," said Bowling Green coach Christopher Waterfield.
Dana Chalupa made it 2-0 in the 27th minute when she snuck through the Celina defense for a low shot to the right past Bulldog keeper Kelli Williams.
"I think the first 30 minutes, maybe the whole first half, was because they outhustled us and they played a better game," said Celina coach Dean Liggett.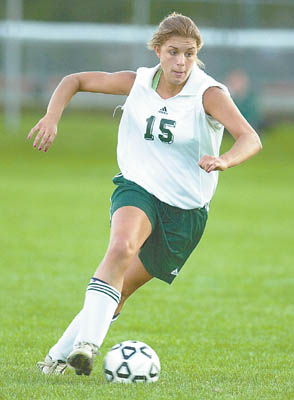 With his team trailing 2-0, Liggett made the decision to take Snyder from her defensive halfback position and move her to striker.
It didn't take long for that move to pay off, as Snyder scored with just under four minutes to play in the first half. Snyder received a long ball out of the back and dribbled around 40 yards before unleashing a shot from roughly 20 yards that found the top right corner of the goal.
It was somewhat of a risky move, as Snyder has been a big part of the Bulldogs defense. Trailing by two in an elimination game, though, Liggett felt like he had no other choice to spark an offense that had very few quality first-half chances to score.
"When we went down 2-0, I figured I might as well pull Robin up off defense, and actually the defense held," Liggett said. "I wish I had the luxary to do that more often in every game, but Robin's integral to our defense, and it worked out well."
In the second half, Laura Snyder helped set up the second goal as she took a free kick from around 25 yards out that Bobcats keeper Clare Strange was unable to handle. Robin Snyder was in position to drill home the rebound for the 2-2 tie.
"She (Robin Snyder) wants to play offense, she's always played offense and she's taking one for the team this year by playing defense for us," Liggett said. "She's done a great job as a marking back, because she's had some tough assignments, but she has the ability to score. I was a little worried moving her up because I wondered if she'd be able to finish the ball, and she was able to do that tonight. Good players rise to the occasion in big games."
Both coaches agreed Celinas second goal turned the complexion of the game. The Bobcats had bunkered down by packing seven to eight players back on defense in an effort to hold their one-goal lead. Now needing to score, Bowling Green looked somewhat rattled and out of place.
"The first one (goal) Celina kind of knew they were in the game, but the second one they knew they were in it for sure," Waterfield said. "Unfortunately we let a couple soft ones go, and I think we had some people really stepped up their game today, and some other people just had an off day and weren't feeling good. Celina did what they needed to do to win today."
In the 64th minute, Miller had the game-winning goal with a tremendous shot from 20 yards out on the left side. Miller drilled a ball over Strange's head and into the back portion of the goal.
"It was just a perfect ball, you don't see many of those," Waterfield said.
Celina's match with Findlay on Wednesday marks the fourth straight year the two squads have met in the tournament. Findlay won last years game, and two out of the three tourney matches.
It will also be interesting to watch if Celina falls behind early tomorrow, whether or not Liggett moves Robin Snyder up to offense again, because the Trojans have a lot more offensive weapons compared to Bowling Green including Caitlin Logan who torched the Bulldogs for four goals in last years sectional championship.