By MARC TOBIAS
mtobias@dailystandard.com

St. Marys played a lot of close games on its way to a 9-1 regular season record, and one thing the Roughriders could count on late in those games was that their defense was going to keep it close.
Leading the charge for that defense was senior inside linebacker Scott Vossler.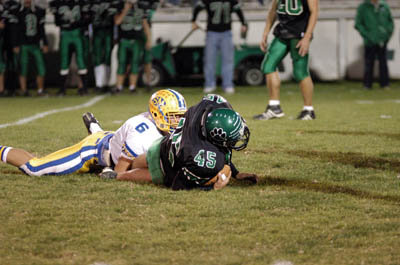 Vossler was third in the Western Buckeye League in tackles with 112, including seven tackles for loss, and he's anchored a defense that gave up just 13.2 points and 96 rushing yards per game.
"Without question the leader of our defense," said St. Marys defensive coordinator Mike May. "I think he's one of the major reasons we've been able to pull out these close games, because he's always composed."
Vossler said the defense prides itself on stopping the opposition's ground game, and the 962 rushing yards allowed this season is the second best total in school history.
Vossler and head coach Doug Frye credited coach May and the defensive staff for using the 4-4 scheme which allows eight defenders to crowd the line of scrimmage.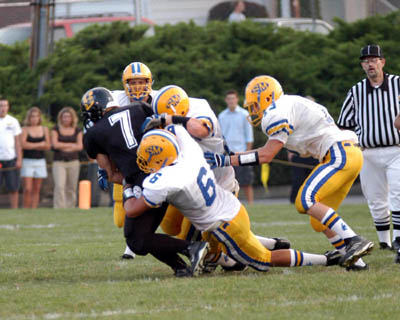 The 4-4 defense also requires Vossler along with fellow linebackers Nick Yahl, Tim Rammel and Ross Quellhorst to cover receivers with only three players in the secondary.
The linebacking core has improved on that as the season has progressed, and Scott Vossler and Yahl have two interceptions to lead the team with Corey Vossler and Kyle Vossler.
"I don't like jumping routes, I kind of sit back and when the ball's snapped if I get a pass read, I look out at the receivers and try to get a quick glance on what routes their running," Scott Vossler said. "If you jump them and then you cover them and the quarterback doesn't throw there and he looks for someone else, but if you leave them open and you know he's coming, then you can sneak in there and get your hand on it."
Scott's done a good job of that, as he's accounted for 10 pass breakups this season.
"He knows the game inside and out, and he knows how to take advantage of the opportunities that he gets in a game," Yahl said of his linebacker comrade.
Frye and May know it takes talent as well as a great scheme, and they referred to Vossler not only as a great player, but a coach on the field due to his hard work and endless hours spent watching game film.
"Scott is first of all a tremendous young man, and he's been the leader of our defense all season, but he basically sees things almost as quickly as the coaches do, which is a huge advantage to have," Frye said. "A typical Monday when we're walking through the opponents' offense Scott will have five or six questions for us, and there's times when it's things we haven't even thought about yet."
Vossler also said the strength of his game comes in the days prior to Friday, when he's mentally preparing to head into battle.
"I'm not aware of what other schools do, but I know our whole defense gets scout tapes of the other team and we go home and watch it for countless hours, we get a five- or six-page scouting report and we really prepare," Scott Vossler said. "Knowing the other team's options before the ball is even snapped really helps you."
Scott has shared that knowledge with teammates as well as coaches.
"We're good friends and I try to learn as much as I can from him because I know he won't be there next year, so I try to make the most of it now," Yahl said.
With the regular season over, Scott's coaches believe he'll be at his best in the playoffs.
"He always plays solid, but in the big games we as the staff always know he's going to make big plays," May said. "He's always around the ball and he's so smart. He reads his keys really well and he can definitely get to the ball."
That big game mentality was no more visible than last weekend, when Scott Vossler racked up 18 tackles against Celina.
"We know he makes big plays, if he starts to make big plays then everyone will start to follow him," Yahl said.
Yahl's even backed that theory up himself, as he the led the WBL with five fumble recoveries.
Scott Vossler's also made an impact on the Riders offense and special teams, where he's made a half dozen receptions including one touchdown, while being a part of the kickoff coverage team.
"He's a tremendous leader, he really is the heart and soul of our defense and we've been able to build around him, he's going to be a tough man to replace, so hopefully we can keep playing for a while so his career doesn't end," Frye said.
St. Marys gets its playoff season underway Friday when it hosts Cincinnati Wyoming.