By GARY R. RASBERRY
grasberry@dailystandard.com

The warhorse line that coaches like to bring up once in a while is "Offense sells tickets, but defense wins championships."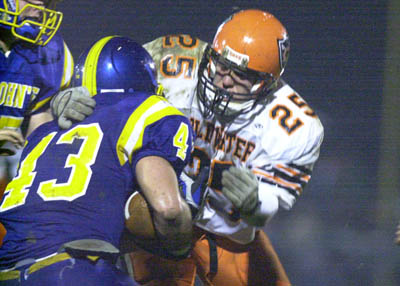 This season, Coldwater's 4-4 defense has done its part to take the latter half to fruition.
With the defense giving up more than 16 points just once this season, the Cavs have made a sixth straight trip to the playoffs.
One group that has put on a clinic at stopping the opponents this season has been the five linebackers that have contributed 407 tackles and 201/2 sacks this season for the Cavaliers.
If it seems that seniors Trent Gerlach and Kevin Brackman, juniors Kyle Rutschilling and Matt Howell and sophomore Ross Homan are the only ones that get to tackle in the defense, it just looks that way watching the tapes of the game.
The fact that the core of the linebackers have been teaming up only since the season started goes to show how strong the group has been this season.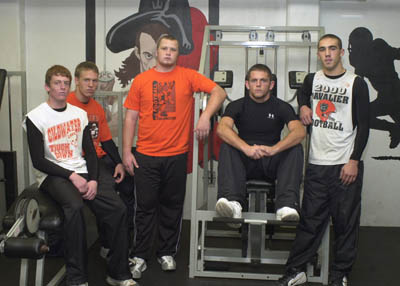 "The key word is group," said longtime Coldwater assistant Jerry Kanney, who with head coach John Reed coordinates the linebackers. "They all communicate well and understand what we want them to do. As a group they work well together."
"It starts in practice. At the beginning of the year, the linebackers didn't know much about each other," said Gerlach, the senior captain with 72 tackles and five sacks. "We started getting tighter and tighter and started making the plays. It started in two-a-days and just carried over. We learned a lot from those guys last year (Andy Moeder and Donnie Gillis). Ross is only a sophomore but is one of the leaders. He's not very outspoken but the way he plays on the field leads for everybody."
Gerlach and Homan were the only returning starters from last season's linebackers. After the graduation of Gillis and Moeder, Brackman moved to an outside linebacker spot and Homan, who had over 130 tackles as a freshman, moved inside with Gerlach and has been potent, leading the conference with 156 tackles, 97 solo, and recording eight sacks.
"Over the summer, the coaches moved me inside. I was looking forward to it. I was working with Trent over the summer, talking to him. He's been a linebacker all four years in school. He did an awesome job last year and is doing a great job this year," said Homan. "If I have any questions or doubts, he's there. I always like going up against Trent because he's going to make me better. He's a role model to me."
Howell has formed a formidable platoon with Kyle Rutschil-ling this season, recording 56 tackles. Rutschilling has also shined, finishing the regular season with 52 tackles.
"Coming into the season, I never played linebacker before," said Howell. "Kyle and the coaches took me under their wing and showed me how to do it. In two-a-days, I worked really hard. We work hard every day in practice. The seniors show great leadership out there. It's like one big unit out there playing."
"Working with Matt is a great experience," said Rutschilling. "We're always helping each other out there. We're always talking on the sidelines during the game, giving each other pointers. We work well together."
Gerlach was equal in the praise.
"Kyle and Matt played jayvee last year but came on this year and stepped in just like they've been there (all along)," said Gerlach. "We've molded together this season. We're all leaders out there."
Brackman, who also had a strong year on the offensive side of the ball as a wide receiver, has also hit hard on defense, recording 71 tackles and 71/2 sacks.
"Coach Hoyng (defensive coordinator Tim Hoyng) and the other coaches coach us so well," said Brackman. "We always have a great defensive plan each week. Trent provides great senior leadership and Ross has the speed and quickness. We really just mold together as a defense because we're well-prepared. Our linebackers read a lot. the inside linebackers are always reading the traps. We're built on speed and quickness. We fly to the ball."
"They had a lot to learn and we had to go through a phase where they had to get the confidence," said Kanney. "Now they have the confidence. There's that learning curve at the beginning. Once they got through that, they just go out and play."
Now the defense gets ready for the second season and Gerlach believes they are ready for anything.
"It's another week and a new season. We're doing fine," said Gerlach. "We have to win to keep going. We're all focused and know what we have to do. We're going into every game arm-in-arm. That's our saying this year, "Arm-in-arm." We're always there for each other, even off the field watching films. It's going to take all 70 of us and all six coaches to get to where we want to go. It starts this week in Wellington. We all know what we have to do, it's a matter of going out there Saturday night and doing it."