By MARC TOBIAS
mtobias@dailystandard.com

For the fourth consecutive year St. Marys finds itself in the playoffs, but this year it gets a big advantage by hosting its contest with Cincinnati Wyoming on Friday night at Skip Baughman Stadium.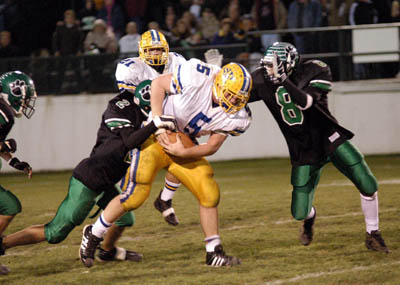 The Cowboys (9-1) will have to drive approximately two hours to battle with the 'Riders (9-1), and that long trip will most likely take effect on the school buses shocks, as they have some big boys making the trip.
"They have some big folks, they are nice sized and their 330 at the nose guard and 260 and 270 at the D-tackles, and a lot of those kids play on their O-line as well. So very big is the first thing that stands out to you," said St. Marys coach Doug Frye.
The biggest of those boys is offensive lineman Ryan Brewster who stands at 6-5 and weighs in at a whopping 330 pounds. Brewster also sees time on defense.
Wyoming's offensive line has done a pretty good job opening holes for star tailback Trey Tudor (5-8,170), as he has run for 1,277 yards and 19 touchdowns.
Frye said Tudor is more of a power runner, but does have the speed to get to the outside.
"The strength of their team is their power running game, and they have a running back that's over 1,000 yards and they have a receiver that's over 6-5 and similar to the Homan (Tim) kid from Celina, he and Homan are very similar," said St. Marys defensive coordinator Mike May. "We're going to have to try and stop the running game if we're going to win the football game, because they're going to try and smash it right at us."
St. Marys' defensive line will most likely need to hold their ground, and then let the 'Riders talented quartet of linebackers come up and make some plays.
"They're not the quickest offensive line, but if you don't stay low they're going to drive you out of there," said St. Marys middle linebacker Scott Vossler. "They have a good tailback that runs hard and is pretty fast. He really reminds us a lot of the Orta (Robert) kid from Defiance."
Wyoming as a team has rushed for 2,229 yards, but they have shown the ability to throw the ball.
Two-year starting quarterback Eric Baker has completed 53 percent of his passes for 1,277 yards and 16 touchdowns this season with only four interceptions. Unlike last week with Celina's Brian Gagle, the Riders shouldn't have to worry about Baker scrambling, as he's only run for 27 yards this year.
Weybright is Baker's go-to guy, as he's caught 40 balls for 742 yards.
The only question now will be if the Roughriders' Nick Yahl will be asked to slide out from his linebacker position and match up with Weybright like he did with Homan a week ago.
"With their running game, I think we'll want to keep our front eight together this week," May said, although both Frye and May said they've pondered about using Yahl as they did a week ago.
"They really want to run the ball at you, with their size physically they like to run the ball, and I would call them about an 85 percent running team," Frye said.
The one thing Wyoming head coach Bernie Barre said he was concerned with was St. Marys' speed, while his Cowboys have the size advantage, he's hoping St. Marys won't be able to neutralize that with its quickness.
"They get to the ball very quickly, and they get a lot of people to the ball, their very aggressive," Barre said.
On the offensive front, St. Marys will also try to use quickness to beat a big defensive line.
"It's going to be a challenge, we're going to have to execute well, and we're going to have to do things with speed, it's going to have to be our top game as far as getting little things done," Frye said.
Corey Vossler will most likely get a few extra calls this week with that in mind, especially coming off a performance a week ago where he ran for 124 yards on 12 carries.
The Cowboys front three or four haven't been real dominant, though, as they have just eight sacks on the season.
"Not too much of a concern playing St. Marys," Barre said with a laugh regarding his teams lack of sacs. "They don't throw it a lot, so I'm not worried about that. Defensively we're much improved, I think from last year, that's probably where we've made the biggest improvement from one year to the next," Barre added.
"They're more of a control the line of scrimmage type defense, they're not a really penetrating get up the field type unit, but with that size they try to anchor down and not let you move," Frye said.
That could be good news if the Riders would find the need to have Corey Vossler go to the passing game, although the Cowboys secondary has come up with 15 interceptions this season. Wyoming has also recovered 17 fumbles. Weybright leads the Cowboys secondary with a school record seven interceptions.
Wyoming tied for the Cincinnati Hills League title, with its only defeat coming 42-12 to Reading. Reading passed for 421 yards in that game.