By Jean Zehringer Giesige
jgiesige@dailystandard.com
"Okay, all the stuff is out, the pink or whatever you want to call it," said Josh Stucky, standing at the stove in a classroom at Celina Middle School.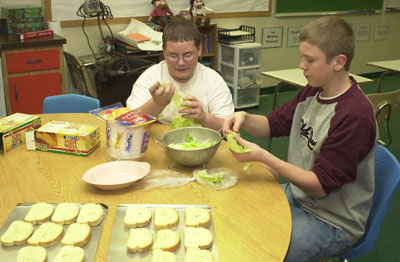 He may not have had all the terminology down, but Stucky, a seventh-grader, looked like a pro as he wielded his spatula over two pounds of ground chuck during a Cooking Club meeting Thursday afternoon at the school.
That day, 10 Cooking Club members were making a spaghetti dinner, complete with salad and garlic bread. Stucky's browned hamburger was about to be dumped into the spaghetti sauce cooked on another stove by seventh-graders Grace Hirt and Sharee Werling.
The club is organized by the Mercer County Educational Service Center (ESC) as part of its after-school activities program funded by a grant from the 21st Century Community Learning Program. The federal grant program is channeled through the Ohio Department of Education to local schools to increase academic performance and offer enhanced extracurricular activities, said Cece Wheeler, the project director for the 21st Century Mercer County ESC. Jessica Haver is the site coordinator for the grant at Celina middle and high schools.
Cooking a meal gives students an opportunity to learn to work together, Wheeler said. Any cook knows that it also involves math, chemistry and organizational skills. Many of the students in the Cooking Club also take part in after-school study tables, where they can finish their homework before the cooking begins.
It's been a popular addition to the middle school calendar, said Janelle Uhlenhake, a Celina Middle School teacher who is contracted through the ESC to provide advice for the Cooking Club.
"We started out with just a few kids, and then it got up to 20, which was just chaotic," she said.
She's had to limit the number of Cooking Club participants to 10 per week, so all the novice cooks can have a hand in the food preparation.
The club meets every Thursday after school in Uhlenhake's classroom for students with cognitive disabilities. The small classroom is equipped with two stoves, a sink and a refrigerator so she can teach life skills to those students during the school day; it now does double duty for the Cooking Club after school.
Cooking Club members have new respect for anyone who can put a good meal on the table, and they've learned a few other things as well. Hirt said she lived through a kitchen disaster at Cooking Club when she burned the chocolate the group was making for a batch of Fudgy No-Bakes.
"I learned that when you boil things, you don't have to turn the heat up that high," she said.
That day, the club made Rice Krispie Treats instead.
Seventh-grader Matt Luginbill said he had some kitchen experience before joining the club.
"I cooked for my grandpa at his place, but only grilled cheese and stuff like that," he said. "I wanted to learn to cook other things."
The club gives them more freedom than they may have in their kitchen at home, where there is sometimes a fretful mother waiting to resume control, some of the students said. It also has one other appealing feature, said Hirt: "At home, your brothers and sisters can be so annoying when you're trying to cook."
Uhlenhake said she loves her time with the club, which combines her two passions of teaching and cooking. She calmly answers questions and oversees the operation without taking over.
"They really do a good job," she said. "I'm trying to teach them to follow through, to follow directions. They want me to tell them what to do next, and I want them to read the directions and figure it out for themselves."