COLDWATER -- Friday afternoon's Midwest Athletic Conference lidlifter against the Minster Wildcats had an added importance for coach Brian Harlamert and the Coldwater baseball team.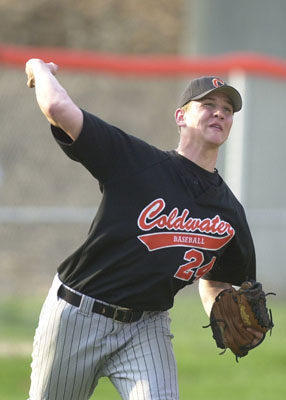 You see, just one year ago, the Cavaliers had Minster run-ruled through 41Ú2 innings, only to see the Wildcats rally back to win the game.
According to Harlamert, he feels that particular early season game was one major reason why his team slid to a 3-6 conference mark last year.
Harlamert's boys indeed corrected last year's disappointing result as they erupted for eight runs in the second inning and went on to run rule Minster 10-0 in five innings this time around.
"This was a statement game for us," said Harlamert. "Last year we thought we had a pretty good team and went to Minster and had them almost ruled and they battled back and beat us and from that game on we went down hill.
"We told the guys that we needed to get off to a good start and let everybody in the league know that we want to be back on top," continued Harlamert. "It was an efficient game, in that we did a lot of things the right way. Steve Wenning on the mound, throwing his third one-hitter of the season, our offense had seven singles, laid down two bunts and we ran the bases well and we ran aggressively."
Coldwater manufactured a single in the first inning to get things underway. Craig Wellman walked to start things, went to second on a sacrifice bunt by Chad Geier and scored on a bloop single by Trent Gerlach.
The Cavaliers blew things open sending 13 men to the plate, scoring eight times in the third. Geier led off with a single and Dusty Ahrens followed with a walk. After Trent Gerlach forced Geier at third, Matt Howell plated the first run with a single.
Brent Schwieterman plated two runs with a double to the gap in left center to make the score 4-0. Trent Schwieterman made the (Continued from page 6)

score 5-0 when his ground ball was thrown away first, allowing Brent Schwieterman to score.
After Troy Siefring reached on a fielders choice when Trent Schwieterman was thrown out at the plate, Ryan Gerlach laid down a bunt which Minster threw into center field, allowing Siefring to score to make the score 6-0. Geier then plated the final two runs with a single.
Of the nine hits on the night for Coldwater, seven were singles.
Wenning was in complete command in the game as he allowed just one hit and six base runners on the afternoon. He walked just two and struck out five.
Coldwater is off until Monday when they play host to Celina while Minster returns to action Monday at New Bremen.
Phone: (419)586-2371, Fax: (419)586-6271
All content copyright 2004
The Standard Printing Company
P.O. Box 140, Celina, OH 45822