By Ryan Hines
rhines@dailystandard.com
COLDWATER -- Two of the higher-ranked teams in the state clashed at Veterans Field on Monday in Coldwater.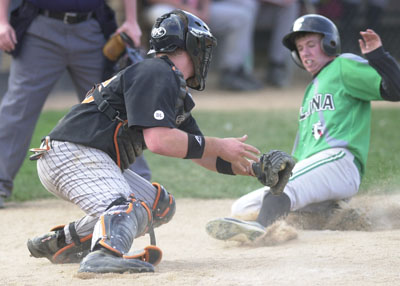 Coldwater, the sixth-ranked team in Division III according to a state panel of coaches who rate Ohio high school boys baseball teams, scored six runs in the first inning en route to a 7-6 win over Celina, the second-ranked team in Division I according to the same poll.
"This is a nice win for our kids because we know that Celina has a nice baseball program," said Coldwater head coach Brian Harlamert. "We may only play once in the spring but they play each other five or six times in the summer so they know each other fairly well."
"Coldwater has a nice program and they're not ranked in the state for nothing," said Celina head coach Bruce Boley. "We expected a heckuva game because of the rivalry with these two teams and with the familiarity of the kids on each team."
It's a good thing for the Cavaliers that they managed to score six runs in the first inning and another run in the second inning because only a couple of Celina base-running blunders prevented the Bulldogs from picking up a come-from-behind win.
Celina starter Brian Geise was greeted rudely by the Coldwater offense and after only2Ú3 of an inning pitched, the Bulldogs were forced to make a pitching change.
Craig Wellman started the first inning with a walk and scored on the first of Trent Gerlach's three doubles in the game to give the Cavaliers a 1-0 advantage.
Gerlach moved to third when Matt Howell reached first base on a fielder's choice before Brent Schwieterman homered to rightfield to give the Cavs a 4-0 lead.
The nightmare start by Geise continued with a walk to Brian Brunswick, who immediately scored on a Troy Siefring double.
Ryan Gerlach, who singled home Siefring, ended Geise's stint on the mound with a line that read six earned runs on five hits with two walks.
After a six-run first inning, Celina's Scott Boley gave up the final Cavaliers run when Trent Gerlach doubled, moved to third base on a Celina error and scored on a wild pitch giving Coldwater a 7-1 lead.
"Our offense kind of goes in spurts and in the first inning we were able to get a rally going and the shot from Brent (home run) was a big hit to make it a big inning," said Harlamert.
From that point on, Scott Boley was brilliant on the mound with 51Ú3 innings in relief allowing one run on six hits.
While Scott Boley was containing the Coldwater offense, the heart of the Celina batting order got the Bulldogs back in the game.
Scott Boley doubled to leadoff the fourth inning and scored when Sean Boley drove him home on a single. Sean Boley scored Celina's third run of the contest on a Kyle Anderson RBI double.
Eric Braun started another Celina rally in the fifth inning with a two-out walk. Scott Boley singled to move Braun to second base when Sean Boley hit a RBI single, scoring Braun. Geise and Garrett Gray each hit RBI singles to pull the Bulldogs to within one run at 7-6.
It appeared that Celina was going to tie the game in the fifth inning when Jordan Heuker, the number-nine hitter, doubled to leadoff the inning.
Heuker was nearly caught off base for an out when Brian Gagle reached on a ground ball to the shortstop, but Heuker escaped the run down to give Celina runners at first and second with no outs. Heuker then appeared to miss-read a sign from the Celina coaching staff as the sophomore rightfielder was caught trying to steal third base, much to the dismay of the Bulldogs' skipper.
Two straight Celina lineouts ended the potential rally, but another opportunity came up for the Bulldogs in the seventh inning.
Sean Boley singled for the third time of the game to leadoff the inning and was replaced by Johnny Roberts, who was sacrificed to second base on a Geise sacrifice bunt.
With the tying run at second base with one out, Coldwater brought in ace pitcher Steve Wenning to try and close things out.
Gray hit a sharp liner up the middle off of Wenning which was snagged in the air by Coldwater's Siefring, who tossed it to Howell covering second base catching Roberts off the bag for a doubleplay to end the game and another possible Celina rally.
"You can't afford any baserunning mistakes against a good team like Coldwater," said Boley. "I'm proud of our offense and the way we came back, but we didn't execute on the basepaths in two key situations that cost us. We need to be able to make all the routine and fundamental plays, whether it's on offense or defense. In two instances we took ourselves out of innings down by one run and that can't happen."
"We were happy to have the six-run first inning, but we knew that we couldn't relax and we told the kids that because we knew that Celina would come out and continue to swing the bats and they have a lot talented offensive players over there," said Harlamert. "It didn't matter if we scored six runs or 20 runs in the first inning, we knew they were going to come back and swing the bats. This was a well-played game on both sides and we were able to jump out to a big lead and then hang on."
Coldwater is back in action today on the road for a Midwest Athletic Conference matchup against New Knoxville while Celina hosts Kenton for a Western Buckeye League showdown.

Phone: (419)586-2371, Fax: (419)586-6271
All content copyright 2004
The Standard Printing Company
P.O. Box 140, Celina, OH 45822