MARIA STEIN -- The Parkway Panthers got a sterling outing on the mound from Dusty Zizelman and cashed in some key insurance runs late in the game to dispense the Marion Local Flyers by a score of 4-0.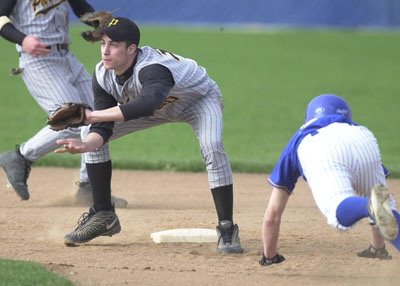 The Panthers continued their climb towards .500, as their overall record improves to 6-8 and they evened their Midwest Athletic Conference ledger at 1-1. The Flyers, who began the year with four straight wins, dropped their fifth straight decision to fall to 4-5 on the year and 0-2 in the league.
Both teams had plenty of chances throughout, but the game was tight until the seventh when Parkway piled on three runs to give Zizelman all the help he needed.
The Panthers, who left a total of six men on base in the first three innings, finally dented the scoreboard in the fourth. Jake Long worked a walk and advanced to third when Lucas Luginbill's ground ball found a hole in the Flyer defense. Zizelman then grounded in a double play, but it was enough to score Long to give the visitors a 1-0 lead.
Meanwhile, the Flyers couldn't make the most of their opportunities, as a caught stealing in the first, a pick-off in the third, and a double play in the fifth, short-circuited potential rallies. "We're just not getting the big hit when we need it," said Marion coach Chad Wells. "Sometimes that goes in spurts. Hitting is contagious, and sometimes it works the other way."
Parkway, which struggled to make solid contact against Marion starter Kyle Moeller, bolstered its lead in the top of the seventh. Moeller plunked Ryan Kennedy and Jason Shaffer to start the inning, and Stevie Hays followed with a ground single to score Kennedy. Shaffer and Hays then tried a double steal, and when the throw to third went into leftfield Shaffer scored the innings second run. Tom Bradley's sacrifice fly put the final run on the board for the visitors.
"We had some runners in scoring position in the first two innings but we didn't capitalize," said Parkway coach Eric Stachler. "Leading by only one run going into the seventh makes you nervous, but somehow we scratched out a few more runs to give us some breathing room."
Marion threatened in their last at-bat, but once again couldn't get a key hit. After a walk and a single put runners on first and second, Zizelman picked off the lead runner for a big out. Johnny Alexander then drew a walk, but Zizelman recorded the games last out with his fourth strikeout of the game.
After the game, Wells expressed frustration that his team once again had trouble with fundamentals.
"With a team like ours, you've got to do the little things right and right now we're not successful at doing those little things," said Wells. "We haven't had a lot of practice time, but that's not an excuse. It's something we have to get better at and we will."
Stachler lauded his starting pitcher for a much-needed shutdown outing on the mound.
"That was a great performance from Dusty Zizelman," said Stachler. "I told him to go right at them and then find out what kind of adjustments you have to make. We needed somebody to step up and throw a great game, and he did."
Parkway heads to Indiana tonight for a game with South Adams and resumes MAC action when St. John's comes to town on Friday. Marion will look to register its first league win Friday traveling to Fort Recovery.
Phone: (419)586-2371, Fax: (419)586-6271
All content copyright 2004
The Standard Printing Company
P.O. Box 140, Celina, OH 45822