By Marc Tobias
mtobias@dailystandard.com
There were a number of excellent boys basketball teams in the Grand Lake area this past season, but St. Marys may have had to overcome the most obstacles to post its first winning season since the 1993-94 season when the 'Riders finished 16-7, and that's why The Daily Standard has selected St. Marys coach Josh Leslie as its Grand Lake area coach of the year.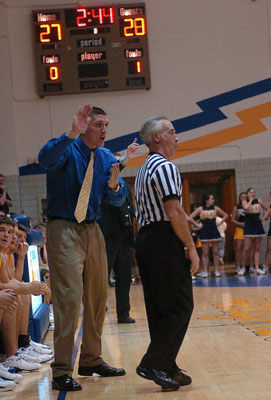 Leslie's Roughriders were riddled by injuries this past season while playing in a very strong and talented Western Buckeye League, yet they persevered to post a 14-7 record including a 6-3 mark in the WBL.
"I think it was a great building year for us, but it was also a what if year because we had so many injuries," Leslie said. "We're not really sure what could have happened if we would of had everyone healthy the entire year, don't get me wrong we're still extremely pleased with how we did and the kids resiliency, they were able to win games when we had those injuries, but I think some of them still look back and think what could we have done if we wouldn't have anyone hurt."
St. Marys saw starters Wes Clark, Corey Vossler and Todd Graves miss time due to injury, most notably Wes Clark who missed a few games early on due to a knee injury, and then was sidelined for roughly the final third of the season with a torn ACL.
Leslie was forced to shuffle his lineup because of the injuries, and by the end of the season he had used 10 different starting lineups. "You can never get in a flow," Leslie said. "I told all of our assistants that's the most tired I've ever been after a year, just because mentally you never know what's going to happen day to day. It cuts down what you can do in practice because you don't want to get guys hurt, you don't' know who's going to practice and who's going to be playing on Friday. It really kind of wears on you, but to their credit they never felt sorry for themselves and they kept fighting and playing hard."
While the injuries undoubtedly hurt St. Marys offensive flow, the 'Riders defense was stellar all season as it held teams to just 46.3 points per ball game.
"Josh has done a nice job with his kids, I thought they had a really good year last year and they were one of the real strong defensive teams in the league," said Celina coach Mike Kanney.
"Along with Celina and Elida, we were all right there (defensively)," Leslie said. "We realized because we get kind of a late start (football playoffs) that our offense doesn't usually get going until late in the season so we have to make defense our big thing. Our matchup stuff teams don't necessarily see it every day or only a couple teams play it around here, and now it allows us to spend more time on fine tuning ourselves as opposed to going through all their offensive sets and learning their plays."
That defense was certainly a key in the 'Riders 46-43 win over Division II state champion Ottawa-Glandorf, the only loss the Titans suffered this past season.
A number of coaches would probably like to know the St. Marys success against O-G, as the 'Riders are one of the very few teams that can boast they were able to knock off O-G in consecutive years.
"I don't know, our kids have confidence against them for some reason," Leslie said with a laugh. "We've played them well every year. We came close a couple of years when we only lost to them by two in the tournament, and that was a year we only won four or five games. I think maybe our style matches up pretty well with them and we just have confidence for some reason."
Leslie added he hopes this past season will be the one that helps turn the 'Riders program into a routine contender in the (Continued from page 1B)

WBL.
"It's getting there, it takes some time to get the kids to really buy into it and do the off season stuff there supposed to, but that's a positive for us right now, because all the young kids are wanting to get back in and wanting to work," Leslie said. "I think basketball is maybe becoming more of a priority for them then maybe what it was in the past. Sometimes we have some kids that played in the past just to play, where now I think they want to be good and they want to be competitive and they'll work at it."
The near future definitely looks bright for the 'Riders, as they return one of the most experienced teams in the WBL next season while the rest of the league, most notably Celina, Ottawa-Glandorf and Shawnee all lose their stars that have carried them the past three seasons.
"If we're healthy we have a lot of guys back, we really only lose two guys that played a lot," Leslie said. "Scott Vossler is obviously going to be tough to replace, there's 19 points out the door right there along with being a four year starter. Kyle Vossler had a great year for us to, but we had the emergence of Adam Johnson who's only a sophomore and our jayvee team were all freshmen last year and they had a nice year for us, so we have a lot of people that can fill those roles. I expect us to be as good next year if not better, if we're healthy. If we're not healthy then obviously then you don't know what's going to happen, but we have high expectations for next year."
There will be health questions though, as Clark will need to recover from ACL surgery, Corey Vossler from knee surgery and Todd Graves from shoulder surgery.
Van Wert would probably be considered the league favorite for next season with Elida and St. Marys not far behind.