By Marc Tobias
mtobias@dailystandard.com
After garnishing a number of postseason awards, Celina basketball star Tim Homan will receive one more, as he has been selected The Daily Standard's player of the year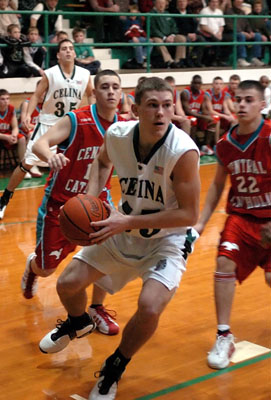 Homan has already been selected to the All-Ohio third-team in Division I, along with being selected to the District 8 and Western Buckeye League first teams as well as playing in the Ohio-Indiana All-Star game this Saturday.
"It feels pretty good (to receive the selections), you don't think about it too much during the season because you're practicing or whatever, now is when you get to think about it," Homan said. "My sophomore year was when I started to receive some awards like second team or third team and honorable mention, stuff like that. When I got to my junior year I got a couple first teams here and there, and my goal was by this year to make first team in everything and try to make one of the state teams."
All those goals were accomplished as Homan took what were very strong campaigns as a sophomore and junior and found a way to elevate his game to an even higher level this past season.
Homan averaged 20.5 points per game this season to top 1,000 points for his career and also become the Bulldogs all-time leading scorer with 1,125 points. His defense also improved his senior year as he grabbed 4.5 rebounds and picked up 42 steals, but what may stick out the most is his efficiency on the offensive end of the floor.
Homan made 59.7 percent of his field goal attempts, the third best mark in school history for a season.
That included 46 percent shooting from behind the three-point arc, also good enough for third best in school history, and a 67 percent shooting clip from 2-point range.
"So why didn't he shoot more?" Celina coach Kanney said with a laugh, "but he was very unselfish about his scoring and he was a team player.
(Continued from page 1B)

"That's quite an accomplishment, especially when you're being guarded as tightly as he was," Kanney added.
If Celina's opponents hoped to slow Homan down at the foul line they would quickly find those attempts futile as well, as the Bulldogs all-time leading scorer tied Doug Kanney for the school record for free throw percentage in a season at 88 percent.
Homan will leave Celina with a number of career records as well, as his 109 career three-pointers is tops among any Bulldog, and his 45 trifectas from last season rank fourth for three's in a season.
His 5-of-7 (71 percent) from behind the three-point arc against Greenville this past season also ranks as the top single game effort for any Bulldog player.
In all Celina fans will be able to flip through next season's basketball program and find Homan's name a staggering 18 times.
"I didn't know it was that many actually, until our banquet when they said 18 times," Homan said. "I don't even know what I'm in there 18 times for, I can think of some things but not 18. But its pretty neat I guess, to be able to look in there and see my name 18 times."
Kanney lauded Homan for his unselfish play, and added had he been a little more aggressive offensively throughout his career some of his records might have been untouchable.
"When you look at somebody like Jamar Butler who would take 35 shots a game, if Tim would have done that who knows, but he had other guys around him and he made everyone better and I think that just speaks volumes about him and the kind of kid that he is," Kanney said.
Homan gave fans a glimpse of what that may have been like in the District 8 all-star game in Elida, when he scored 46 points on 10-of-13 shooting from three-point range. The three missed trifectas were his only misses of the game.
Kanney added Homan's biggest impact this year may have been when he finally took over the leadership reigns of the team.
"This season I think he took the leadership role more so then he did so last year," Kanney said. "We had Brett (Dorsten) and Jeff Vondrell on last year's team and he would take a backseat to those guys a few times. This year I feel like he really stepped up his game and made some big strides. He did have a stretch in there where he was sick and didn't play real well, but when he got healthy again he was right back on track and did nice things for us. I could say a lot of good things about the kid."
Homan now moves on to Division II Hillsdale next year to continue his basketball career, but when asked what he'd remember most about his Celina playing days he didn't mention scoring titles or records of any sort.
"Probably the guys I played with, I'll remember them a lot from my three years," Homan said. "All the fans and all the little kids wearing the 'Timmy' shirt, that will stick (in my mind)."