By Jean Zehringer Giesige
jgiesige@dailystandard.com
Gena Lewis has found the secret to world peace, and it isn't expensive or complicated. She discovered it when she was visiting her baby granddaughter, Eisabella, in South Carolina last month.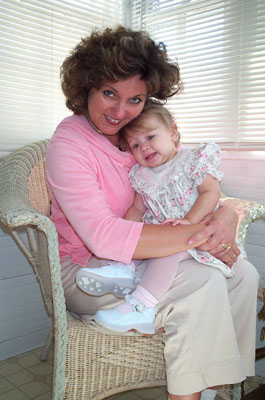 "I remember sitting on a swing by the beach holding her as she took her midmorning nap that last morning I spent with her," Lewis said. "I felt so connected to God. I thought if everyone could experience love this pure and unconditional, the world would be cured of all its ills."
Since Eisabella, who lives with her parents in Savannah, Ga., was born on Jan. 8, 2003, Lewis has discovered what generations before her already know: that being a grandmother is a wonderful thing, a gift, a joy.
"I've got pictures of her everywhere, all over my house," said Lewis, who lives in Celina. "Stacks of pictures. Piles of pictures. And I find myself going through them again and again."
Lewis became a grandmother at the age of 45, earlier than the national average. According to the Ohio State University cooperative extension service, most people become grandparents between the ages of 49 and 53. While many grandparents would describe their role as special and unique, it is a common experience; approximately 75 percent of Americans over the age of 65 have grandchildren. Lewis has been able to share her new-found joy with her sisters, Judy Mersman of Celina and Deanna Riesen of Fort Wayne, Ind. Comparing notes on their grandchildren has given the sisters, always close, another vast subject to explore when they're together. The three sisters, along with their mother, Opal Dull of Celina, and another sister, Theresa Kerns of Celina, made the trip to Hilton Head, S.C., together to see both Lewis' granddaughter and Mersman's two granddaughters, 3-year-old Madison and 5-month-old Emma, who live in Hilton Head.
"We all got in what we call the granny van and made the trip together" Lewis said. "We all stayed together in a beach house, and the mothers brought the babies to us so we could have them on our own for a few days. Because there were five adults and only three babies, we ran a little short on babies."
Grandmothers had first dibs.
"I can tell you this much about the trip: my granddaughter knows me. Our hearts are like magnets," Lewis said. "Out of all those grandmas, she would seek me out. She would exchange affection with all of them, but it was me that she wanted."
That feeling is a better tonic than anything else on earth, according to Riesen, who has one granddaughter, 21-year-old Heather Riesen, who is now a junior majoring in psychology at Indiana University.
"When you're a grandmother, you can't wait to see your grandchildren again. You pine to see them," Riesen said. "Sometimes I think, 'She's busy, she's not thinking about her grandma,' and it makes me a little sad. Then she calls me and everything it all right. We just enjoy each other's company and love each other so much. We can't get enough of each other."
But she has a warning for other grandmothers: enjoy it while you can.
"You think that your own children grew up quickly, it's even faster with your grandchildren," she said.
Judy Mersman said she has been enjoying it, ever since Madison was born three years ago. She sees the same light in the eyes of her friends and co-workers who have become grandmothers, she said.
"I don't hear any complaints about it," she said. "It's a wonderful thing."
It is a vocation that calls for both generosity and diplomacy, the grandmothers said, especially since there's another woman in the relationship: the baby's mother. Mersman said her daughter, Elizabeth Martel, is an excellent mother who doesn't need a lot of counseling from a concerned grandmother.
"You learn to curb your advice. You wait until they ask," she said.
That's easier said than done, added Lewis.
"My daughter Hali is a very good mother, too. But still I find myself asking, 'Did you do this? Did you do that?' " she said.
But their bonds with their daughters also were strengthened with the birth of the babies, they said.
"When Eisa was born, and she was in Hali's arms, we would look up at each other, then look down at the baby," she said. Those looks defined an eternal circle, Lewis said.
The love that grandmothers shower on their grandbabies has many rewards, the women said, and may include one they did not anticipate. A recent study at the University of California at Berkeley has shown that grandparents can increase their own longevity by loving their grandchildren.
According to a story about the study in the Chicago Tribune, nature rewards caregivers such as grandmothers with a longer life. A person who shares resources, including time, food, money and wisdom, with the next generation, is contributing to the survival of the next generation, and is likely to live longer, the study found.
That would suit Lewis, who lives for the time when she will see her granddaughter again.
"Before she was born, everybody said to me, you will not believe how much love and joy you will feel when you become a grandmother. And you don't know, until you get there. I can't wait until I see that child again," she said. "Every single day when I wake up, I say a prayer for her."