By Shelley Grieshop
sgrieshop@dailystandard.com
Snakes slithering through women's hair and monkeys and gorillas fighting over bananas?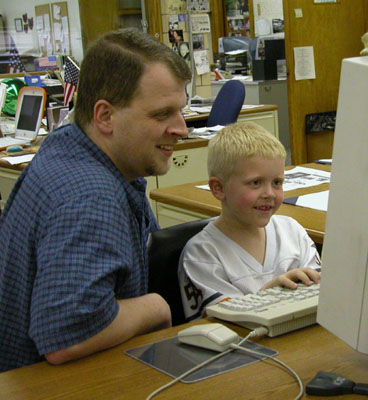 It can mean only one thing -- Celina elementary students have been busy creating stories for the annual Write Now! contest.
Payton Cox, a first-grader at the school, took his imagination to the limit as he wrote "Crazy Day at the Zoo," which was chosen one of the top five entries of his grade.
"All of the birds were pecking people's heads and the kangaroos jumped right over the fence and out of the zoo," Payton's story begins.
Payton leaves the chaos of the zoo with the animals and travels all over the world with them to "eat what they eat and spend one day with each different animal to see how they live," he wrote. He managed to give the story a happy ending. He finally comes home and gets a haircut from Ted the barber (his real barber). His hair was so long, he wrote: "I kept tripping on it and falling on my face." He also took a shower because, as he put it, living with animals makes you "stinky, smelly and sweaty."
No more zoo for him, he decided, Animal Planet on television will just have to do.
"Dad gave me the idea for the story," said the 7-year-old with snowy-blonde hair.
His father, Daily Standard reporter Tim Cox, 31, admitted he forced his son to enter the contest.
In one of the first Write Now! contests held at the school in the early 80's, Tim Cox himself penned the top prize. He took the honors more than once, he admitted.
"One (story) was about a snowstorm, another was about two teenagers staying home alone for the summer," he said. "I am a pretty harsh critic of my own work, but the home alone piece I am still pretty proud of today. It has some killer satire."
Of the 654 students in kindergarten through fourth-grade at Celina East Elementary School, 239 voluntarily participated in the writing contest. Judges chose five winning entries from each grade.
Braelen Bader, a second-grader, wrote about "My Lucky Night," when the tooth fairy left him $10 million for his extra-large tooth.
Kindergartner Wyatt Petersen also took top honors for "Dragons," a story about the fun he and his dragon has with his friends and their pet dragons.
Third-grade winner Nate Post wrote about his dog who becomes a super hero and goes to Washington to talk to the prez. "The Dog who was a Super Hero" later saves Post from a hungry shark.
The 25 winners received certificates, free food coupons from East of Chicago Pizza and shared pizza with school Principal Matt Miller last Friday.
West elementary also participated in Write Now! this year.
Rich Stein of Minster, now a children's book author, began the writing contest while curriculum director at the school in 1981.
"It was simple really," said Stein, a former English teacher. "One day I was talking to the superintendent and I told him I'd like Celina kids to be known for good writing skills. He said go for it."
Stein believes that at least once a year students should be allowed to write something -- without teacher or parental intervention -- a true reflection of their talent and creativity.
The contest rules have remained the same. Students can write a story or poem, short or long, and can include an illustration or cover. The amount of work put in is completely up to each child, Stein said.
"During my 15 years at Celina, I read over 10,000 manuscripts," Stein said. "Teachers were amazed many times at the talents of their students."
Stein said the creativity he saw during the years was outstanding. Once he received a story about sports written on a basketball; another student he recalled designed a book cover in the shape of a fire hydrant for a story about dogs.
Tim Cox credits Stein for the positive changes he brought to the school system by stressing writing.
"Everyone always says kids need to know how to read, but Rich Stein understood that kids also need to be able to write effectively," Cox said.