COLUMBUS -- The last time former St. Henry quarterback Todd Boeckman saw live game action was October 25, 2002 against the Fort Recovery Indians. That night, the 6-5 signal caller threw for 144 yards and a pair of touchdowns in a 21-0 Redskin victory.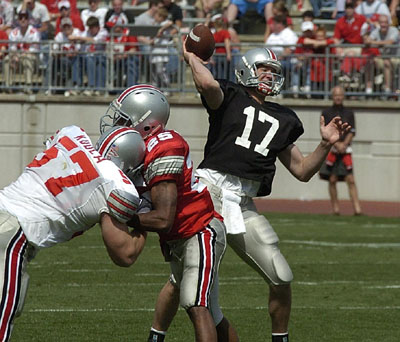 Since that rainy October evening over a year and a half ago, the only action St. Henry's all-time leading passer has seen has been behind the closed doors of Ohio State football practices.
However, Saturday, in front of over 45,000 Buckeye fans, Boeckman took the field at Ohio Stadium for the annual Scarlet and Gray intrasquad scrimmage. Boeckman was gray-shirted for the 2003 season and didn't officially sign with Ohio State until this past January. He enters this spring as the number three quarterback in head coach Jim Tressel's young stable of signal callers, behind sophomores Troy Smith and Justin Zwick.
"Walking out onto the field today in front of all those screaming fans is something I have dreamt about for a long time," said Boeckman. "It wasn't an actual game, but the atmosphere was exciting and it really got my nerves going early on."
Boeckman began the contest on the Gray team's sidelines, taking over snaps in the second quarter from Smith, finsihing the first half with five completions for 29 yards and one interception. He was sacked three times, however to avoid injury, the quarterbacks were restrained from moving from the pocket. "We had a live practice last week in which the quarterbacks could run, throw, or do what they wanted," said Tressel. "Today we wanted them to stay in the pocket and complete the pass or throw the ball away. Sometimes unloading the ball to the sidelines is the best pass a quarterback can make all day."
In the second half, Boeckman shifted over to the Scarlet team, which held a 10-0 lead following two quarters of action. Zwick took the hand offs for a little over a quarter, until Boeckman re-entered the contest in the final period. He finished the scrimmage completing six of eleven passes for 33 yards. Although Todd's numbers were not stellar, the freshmen held his own and showed promising composure, despite the patchwork line up all quarterbacks were forced to work with.
"I was very nervous in the early going today," remarked Boeckman. "Once I got a few snaps in, I felt a little more comfortable, and everyone just kept telling me to relax and play my game. I tried to do that a little bit more and things got a little easier."
Following the contest, Buckeye fans may have a lot of questions about the upcoming season, especially on the offensive side of the ball where execution looked a little rough at times. Tressel, howeever was quick to downplay any talk of such concerns.
"The teams played with a lot of mixed personnel today," said Tressel. "I was happy with a lot of things, but there are also a lot of things that we still need to work on. It is only spring -- we have 29 preseason practices to get things straightened out. We will be fine."
As far as the quarterback situation is concerned, Tressel was satisfied with the outcome of the game, and feels confident a leader will emerge from his group of signal callers.
"The quarterbacks were a little limited with what they could do today in an effort to keep them from being injured," he commented. "I think it took something away from each of their games, but that's okay. Right now Justin and Troy are alternating taking snaps and Todd is really pushing them both. I feel this makes us a better team at that position and it is a good situation to be in. I don't think you can have a championship team without more than one capable quarterback."
On the scoreboard, the Scarlet ended up pulling out the 13-0 victory as Zwick connected on 16 of 26 passes for 165 yards. Freshman running back Tony Pittman carried the pigskin 21 times for 105 yards. On the Gray side, Troy Smith finished 7/15 for 53 yards, but the lack of a solid running game severely hampered the offensive attack for the Gray squad. On the afternoon, they were stuffed for negative 33 yards on the ground.
As for Boeckman, he feels he can only improve on his game and pointed out that the time between now and the start of the 2004 season can be a significant benefit for him.
"Right now I know I am still the number three quarterback, but all I can do is go out and do all I can to put myself in a better position," he quietly remarked following the contest. "Everyone here has been helping me out learning the new system, and I feel if I can continue to improve each practice that I will be in good shape this fall."