By Gary R. Rasberry
grasberry@dailystandard.com
COLDWATER -- Marion Local softball coach Gary Moeder said his goal was to get three or four runs a game this season.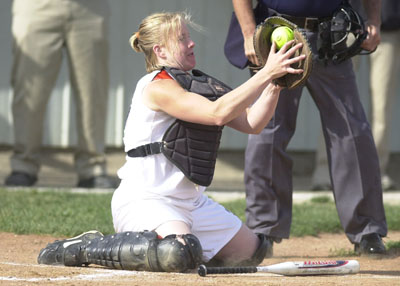 Monday night against Coldwater, the Flyers got one. But, with Dana Hartings on the mound, Marion Local didn't need more.
The senior ace struck out 16 and kept Coldwater scoreless to bide time as the Flyers tried to score on a tenacious Cavalier team.
Kim Droesch's two-out single in the top of the seventh provided the only run the Flyers needed in a 1-0 Midwest Athletic Conference win at Coldwater. Marion gets over the .500 mark in the regular season at 7-6 and evens the MAC slate at 2-2. Coldwater drops to 9-7 and falls out of first place in the conference at 2-1.
"That's what these league games are all about," said Moeder after the last out and handshakes. "It's going to be tooth-and-nail all the way through." Just as Hartings was dominant in the circle for the Flyers, allowing just four hits and walking none, the Cavaliers had good pitching and some timely defense.
In the first inning, Danielle Goubeaux made a catch at short on a Megan Homan line drive and then threw to first to get Lynn Hartke for a doubleplay.
The big defensive play came in the second. Hartings led off with a double and stole third. After a strikeout, Lindsay Dippold flew out to Amber Lefeld in center. Hartings tagged up and Lefeld came up firing a perfect throw to catcher Katie Homan, who put the tag on with time to spare ending the inning.
"Defensively, we did fine. We just could not get the bats going. We had an opportunity here or there, not too many, said Coldwater coach Jack Mescher. "But we expected that. It comes down to that you have to make something happen in a game like this. We tried that early when Tasha stole second and third. Those were the things we tried to do, but couldn't get the break."
Amy Welsch started the game and went the first five innings without major problems.
In the sixth, though, Sarah Moeller reached with a double and Mescher called on Amber Heyne to get out of the jam. Heyne got Droesch to strike out, followed by Hartke. After Abby Homan walked, Megan Homan grounded back to the circle, where Heyne threw to first to end the inning.
In the top of the seventh, Hartings led off with a single. Jennifer Rose laid down a bunt and reached first safely. Hartings tried for third but was thrown out for the first out. Dippold followed with a single, followed by a Lisa Siegrist single to load the bases. Heyne got Moeller to look at strike three bringing up Droesch. Droesch ran the count to 2-2 before singling up the middle to score Rose.
"We finally put it together," said Moeder. "We've been struggling at that all season. It's finally starting to come together. Hopefully, we'll keep going."
Hartings and Droesch each had two hits for the Flyers.
Marion Local returns to action today when always-tough Crestview comes to Maria Stein. Coldwater remains at home today to face Ada.
Phone: (419)586-2371, Fax: (419)586-6271
All content copyright 2004
The Standard Printing Company
P.O. Box 140, Celina, OH 45822