By Ryan Hines
rhines@dailystandard.com
It used to be that Lima Bath had Celina's number on the softball diamond.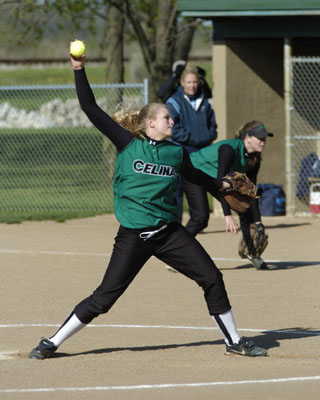 That seems to have changed as Celina has now won the last three meetings with Lima Bath, including Tuesday's 7-2 victory in Western Buckeye League action.
Celina, the defending WBL champions, improve to 16-1 on the season and a perfect 4-0 in the league while Bath falls to 11-4 overall and 3-1 in the WBL.
"Bath earned their right to be the team to beat for years by winning the league so many years in a row, but I think that we're heading in the right direction," said Celina head coach John Hendricks. "We're definitely trying to change that and I think that winning the last three games against them is helping our program in that direction."
"I'm not concerned with what they (Celina) did. I'm more concerned with what we didn't do," said Bath head coach Laura Ford. "Defensively, we didn't show up to play tonight and I think that was the ballgame. "We didn't make plays that we've made all year. It's too bad that it had to happen in a game like this where I thought we would come to play. Defensively we did not," continued Ford. "What we have to do now is just take care of our business because we can still win the league because I don't think that anyone will go undefeated in the league this year."
If Ford is right, then WBL teams are going to have to be able to find a way to score on Melanie Heyne as the sophomore hurler tamed the Lady Wildkittens bats.
Heyne went all seven innings allowing two runs on five hits while striking out seven to up her record to 9-1 on the season.
"Tonight is the first time that she's given up any runs in a long time," pointed out Hendricks. "Bath earned their runs tonight and those are the first runs off Melanie since the second game of the season. Melanie doesn't act like a sophomore and every time that she has a game like this against good competition that's going to help her confidence for what's down the road."
Despite Heyne's performance on the mound, Celina found itself down one run after the first half inning of play.
Bath's Amy Simindinger belted a one-out double and scored on a fielder's choice after moving to third base on a wild pitch.
Down 1-0, Celina didn't take long to erase the minimal deficit in its half of the first frame.
Allison Hoying drew a one-out walk and moved to third base on a Kelli Williams single before scoring on a wild pitch.
In the third inning, Celina took the lead for good with a three-run outburst aided by a pair of Bath errors.
Jamie Siefker started the Celina rally with a double and scored on the next pitch after a Hoying sacrifice bunt turned into a two-base error giving Celina a 2-1 advantage.
Julia Siefring then reached base after being hit by a pitch before the second Bath error and another wild pitch allowing Hoying to score. Siefring scored the third and final run of the inning on a RBI infield single by Megan Harner.
A RBI triple by Williams and a run-scoring single by Shay Adams plated runs for Celina in the fourth inning while Adams added another RBI single in the sixth inning to close out the scoring in the game.
Siefker was the top offensive contributor for Celina from her lead-off spot in the lineup with a single, double and three runs scored to go along with a pair of stolen bases.
Adams was 2-for-2 at the plate with two RBI and two walks while Williams had a two-hit day.
Bath's Hannah Rockhold suffered the loss, despite piling up 11 strikeouts.
Celina is back in action Monday on the road against Parkway.
Phone: (419)586-2371, Fax: (419)586-6271
All content copyright 2004
The Standard Printing Company
P.O. Box 140, Celina, OH 45822