By Gary R. Rasberry
grasberry@dailystandard.com
MARIA STEIN -- The anticipated battle between pitchers Steve Wenning and Cory Luebke did not disappoint the chilly brave fans that came out to the Marion Local baseball diamond on Tuesday.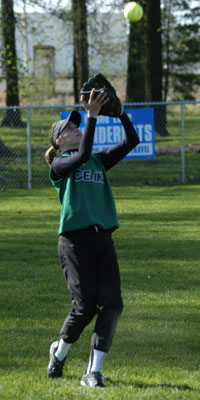 Luebke, the Flyers' lefthanded ace who has the pro scouts coming out every time he throws, went toe-to-toe with Wenning, who came into the game 7-0 for Coldwater with four one-hit games on the season.
Luebke allowed three hits and struck out 16, but even that was not enough as Wenning picked up his fifth one-hitter in striking out 11 as the Cavaliers won 1-0 in the Midwest Athletic Conference action.
The Cavaliers improve to 15-3 on the season and a perfect 4-0 in the MAC. Marion Local, which earlier this year also lost a 1-0 decision to New Bremen when Luebke fired a one-hitter, falls to 8-6 and 1-3 in the MAC.
Both pitchers were in control of the game, which took just under an hour and 20 minutes to play. Luebke had just one walk and Wenning walked two in the game. "I was guessing, coming in, there would be 25 (combined) strikeouts," said Coldwater coach Brian Harlamert.
There were only two pitches that the Cavaliers needed, out of the 105 total pitches -- 76 going for strikes, to get the win.
That came in the fourth inning when Dusty Ahrens took Luebke's 0-1 offering to the fence in left for a stand-up double, breaking up Luebke's no-hit bid. Trent Gerlach came up next and took Luebke's next offering to center to score Ahrens for the only run of the game. Luebke proceeded to get Tyler Schwieterman to fly to right and then strike out Brent Schwieterman and Matt Howell to end the inning.
After that, Luebke struck out the side in the fifth and sixth before ending the eight strikeout streak with a flyout to center followed by a single by pinch-hitter Brian Brunswick. Luebke wrapped up his seven innings by striking out Howell and Troy Siefring.
"We didn't have many chances, but we did have some quality at-bats," said Harlamert. "We had a lot of foul-offs. We felt good."
The one run was all Wenning needed as the senior righthander scattered two walks along the way. The only hit for the Flyers came in the second inning when Troy Luebke singled. Wenning retired the last 10 batters he faced, including back-to-back strikeouts of John Alexander and Troy Luebke. Wenning threw 92 pitches in the win, 68 going for strikes.
"Steve got the ball and was dominant," said Harlamert. "He comes out on 3 1/2-4 days rest and goes at it. He wants that ball. We're going to ride Steve for awhile and Marion is going to ride Cory awhile."
"Steve threw a great ballgame," said Flyers skipper Chad Wells, who was an assistant under Harlamert at Coldwater a couple of years back. "They got those two hits back-to-back. That happens. Both pitchers today deserved to win. It was one of those tough-luck losses.
"I like the effort we had tonight. Even though we weren't real successful at the plate tonight, we had a better approach than we had in the past. I think we're getting better," added Wells.
Both teams return to action on Friday with MAC games. Coldwater hosts St. John's as Marion Local heads to Hanover Street in Minster to face the Wildcats.
Phone: (419)586-2371, Fax: (419)586-6271
All content copyright 2004
The Standard Printing Company
P.O. Box 140, Celina, OH 45822