By Margie Wuebker
mwuebker@dailystandard.com
FORT RECOVERY -- Walter L. "Leon" Mills never talked much about his wartime experiences except to comment occasionally about the food and his intense dislike for mutton.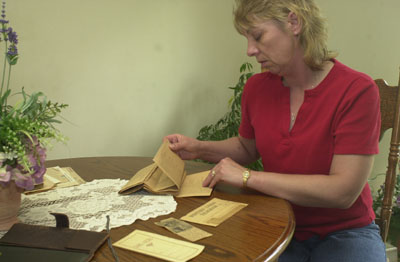 dailystandard.com">
The four Mills children -- Dixie Timmerman, Monte Mills, Cheryl Meinerding and Vickie Roth -- only knew he had served overseas with the U.S. Army during World War II and spent six months in a military hospital recuperating from shrapnel wounds.
"Dad and Mom apparently felt wartime memories should remain buried in the past," Timmerman said. "We had a lot of questions over the years and so few answers."
Leon Mills, a longtime member and former commander of local Golder-Pottkotter Veterans of Foreign Wars Post 6515, died Aug. 23, 2002, at the age of 82. Alzheimer's Disease gradually took its toll, robbing him of the ability to recognize loved ones and talk about bygone days. His wife, Edna, passed away in March.
The four children gathered in mid-April to clean out the family home on Wiggs Street and made some unexpected discoveries in the process. A strange-looking canister bearing a Japanese inscription drew immediate attention while a brown leather packet containing military discharge papers proved to be a treasure trove of information during the ensuing days.
Pushed way back in the corner of a closet shelf, the canister had escaped detection for decades.
"We weren't sure what the thing was initially," Timmerman said. "None of us ever saw it before that moment. Even my brother (Monte), who seemed to find everything Mom and Dad hid, never encountered it during the course of his frequent searches."
A local coin collector took one look at the brass-topped device and called it a grenade. A subsequent Internet search produced information as well as detailed drawings of a Japanese Model 89 "knee" mortar. The encircling red band indicated the ordnance to be Army issue.
Called the basic support weapon for an average rifle platoon, the 2-pound shells could be carried easily from place to place. The launcher was braced against the ground when shooting. Although one man could fire a round if need be, rapid firing of the maximum 25 shots per minute required at least one more crew member to drop the shells down the barrel. American soldiers became all too familiar with the telltale thud preceding each explosion.
Mills' canister weighed between 2 and 3 pounds, slightly more than normal, leading to concern about the possibility of explosives inside. Family members contacted the Mercer County Sheriff's Office and a bomb disposal unit came from Wright Patterson Air Force Base.
The decision was made to detonate the device at Stoneco Inc., an area stone quarry. Timmerman and Karen Wymer, her brother's girlfriend, kept vigil at nearby Swamp College Cemetery as preparations were made.
"We were there for dad's sake," Timmerman explained. "It was like a final good-bye. The mortar must have held some special significance or he would not have kept it for 60 years. We now wonder whether this type of shell was responsible for his wartime injuries. It's sad -- the only person who could tell us is gone."
Gravel trucks rumbled in and out of the quarry leading both women to wonder whether they would hear the explosion over all the other noise. A loud boom left no doubt the mortar was history.
Timmerman, visibly moved by the experience, gasped as the sound echoed across the countryside. "We're sorry Dad," she said quietly.
Family members later looked through the brown leather packet and discovered the Western Union telegraph informing relatives Pfc. Walter Mills had been injured in the South Pacific July 28, 1943, and evacuated from the Theatre of Action. The telegram, written six weeks later, was delivered to his parents' home in Rosehill the morning of Sept. 5.
Mills left most of the pages in his serviceman's notebook empty. However, neatly printed entries indicate he entered the service Nov. 17, 1941, and completed infantry training at Camp Wheeler, Ga. On May 26, 1942, he embarked from San Francisco, Calif., aboard the ship Eurgay and landed in New Zealand. His first experience under fire occurred July 6, 1943, in New Georgia.
The serviceman described the shrapnel wounds sustained 22 days later as being "in the right leg just above the bend of the knee, in the right cheek of the buttock and in the middle of the back." The military later declared him 30 percent disabled due to muscle injuries.
A section of the booklet labeled "Things I Want To Remember" remains blank. Apparently he felt no desire to record the things he experienced or the things he saw for posterity.
Other neatly folded papers in the packet rescued from an old strongbox indicate his military specialties as diesel engine man, heavy truck driver and automatic rifleman. In addition to the Purple Heart awarded July 31, 1943, at the 20th Station Hospital, he earned an American Defense ribbon, an A/P ribbon with one bronze battle insignia and the Good Conduct Medal.
A yellowed newspaper clipping indicates the Mills couple married Aug. 5, 1944, in Ansonia. The ceremony took place while he was on a 20-day furlough from a camp in North Carolina. The story describes the groom as a "vet of action against Japs in the Southwest Pacific, having spent 26 months of active combat duty in the theater of operation."
"We assumed they were married after he left the service," Wymer said. "This clipping tells an entirely different story."
Following discharge from the military on Sept. 29, 1945, Mills worked 30 years at General Motors in Dayton. Retirement provided time to pursue woodworking interests before Alzheimer's disease robbed him of good as well as bad memories.
"Dad was a private person who shared very few details regarding the war," Timmerman said. "Other men reminisced about their experiences at reunions and social gatherings; he listened but remained quiet. As for patriotism, he loved the flag and was committed to the VFW. I don't think he missed a Memorial Day observance and he always took Mom and us kids to Veterans' Day activities at the Darke County Fair."
Although the discovery of the packet sheds light on his military history, many unanswered questions remain. "Gosh Dad, why didn't you tell us about all this?" has been asked repeatedly in light of the recent discoveries.
"We want to encourage other veterans out there to share wartime experiences with family members before it's too late," Timmerman says. "If you have souvenirs bring them out and explain their significance. What you have is part of history -- a legacy that should be shared and celebrated."