By Marc Tobias
mtobias@dailystandard.com
ST. MARYS -- Krissy Haines offered up a number of memories during her outstanding athletic career for St. Marys, and now any Roughrider fans looking to catch a glimpse of a few more of those highlights will be afforded that chance as Haines has committed to continue her athletic endeavors at Ohio Dominican.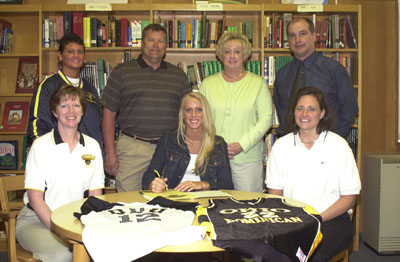 Haines will suit up in basketball and volleyball at Ohio Dominican, but she said her biggest decision to go to school there was because of its educational programs.
"My education was the biggest reason for going there. They're one of the top schools in education programs and that to me was more important than anything," Haines said. "I knew I wouldn't be able to quit volleyball and basketball after high school, and if it doesn't work out the first year then maybe things will change, but I know it will work out the first year."
Haines added she really liked the student versus faculty ratio and that her initial education plans are in education with most likely math her subject of choice.
Another positive for Haines is that she will be reunited with another former Roughrider in Sarah Wheeler, who also plays hoops for Ohio Dominican. "I want to go somewhere that I felt wanted, at this college and I was," Haines said. "The girls called my cell phone and my house and it was nice."
Ohio Dominican was also most likely very excited about Haines' arrival, as Haines was a very highly decorated athlete this past year.
"I think she will fare extremely well, I might be a little biased but I think Ohio Dominican is getting a great deal here," said St. Marys coach Bruce Brown. "She in my mind is very capable of playing basketball at the Division I level, so I think she is going to have an outstanding career at Ohio Dominican."
Haines was named the state's top player in Division II this past season in basketball and volleyball, and she wound up her hoops career by helping lead the Roughriders basketball team to a Western Buckeye League title. She also finished third on the Roughriders all-time scoring list for basketball, where she accumulated 1,447 points.
Haines was also named the (Continued from page 1B)

WBL's top player in both sports this past season as she led the St. Marys team in kills and blocks and the 'Riders hoops in points.
"Krissy was our go to in the middle, and just looking at her she's not a very big girl, but the thing about her she can go with her left hand or right hand and that's something that we're going to miss in the middle," said St. Marys volleyball coach Monica Vanderhorst. "Ohio Dominican will definitely benefit from her,she works hard she's a good athlete and she wants to win. I think her dedication to win is what has really helped her the last four years and she just has that natural athletic ability."
Both coaches admitted that Haines is a big loss for their programs, but quickly added her positive attitude will hopefully carry over to the underclassmen.
"She has improved and developed every year because of her work ethic and then she topped it off with her best year by far this year as a senior," Brown said. "We will miss her as a player, but the positive side is I think her work ethic and her attitude and approach to the game rubbed off on to some of the younger kids."
Haines who averaged 22.2 points and 7.5 rebounds for the Roughriders basketball team last year said she really likes the style of her future hoops team.
"They play a quick pace and it's kind of similar to how we played, and I think that's what attracted me to the team and the style of coaching," Coach (Kate) Cummings coaches almost like coach Brown and coach (Sandy) Rowley coaches almost like coach V, and that's another thing that interests me."
Upon finishing her collegiate career Haines said she could see herself as a high school teacher and basketball or volleyball coach.
"I actually joked around with coach Brown, I said you'll have to stick around for at least for more years because when I come back I'm taking over your job," Haines said. "I'd like to coach when I come back, that'd be nice."
Phone: (419)586-2371, Fax: (419)586-6271
All content copyright 2004
The Standard Printing Company
P.O. Box 140, Celina, OH 45822