By Gary R. Rasberry
grasberry@dailystandard.com
COLDWATER -- Over the past several seasons, Capital University has been looking to the Grand Lake area for talent in all sports.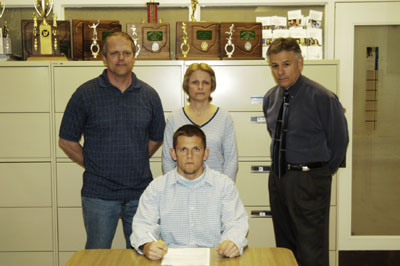 The football program picked up a pair of talented players from the most successful programs the past 10 years as Coldwater seniors Josh Fullenkamp and Kevin Brackman signed with the Ohio Athletic Conference school.
The Crusaders went 8-2 last season, 7-2 in the OAC with losses to national powerhouse Mount Union and then Baldwin-Wallace a week later.
Fullenkamp was a multi-faceted running back in coach John Reed's multi-receiver, shotgun offense. The senior was sixth in the MAC in receiving yards with 390 on 22 catches and four touchdowns. On the ground, Fullenkamp led the Cavaliers with 452 yards rushing and eight touchdowns. Fullenkamp's 72 points was good for sixth in the MAC last season. Fullenkamp also played on the defense, scoring a sack. Fullenkamp was named second-team All-MAC last season.
The fact that Fullenkamp was able to produce despite not being at 100 percent has the senior hoping to show what he has at full strength. "I went through my senior year with a stress fracture in my hip. I just want to go and play healthy for once," said Fullenkamp, who will major in criminology. "I want to see if I can improve on my attributes and my skills."
The fact that Capital is located in the Columbus suburb of Bexley, less than two hours away, also attracted Fullenkamp.
"I have a strong bond with my family," said Fullenkamp. "I feel being close to them and not having to travel far away, will definitely benefit me."
The competition level of the OAC, which also includes Ohio Northern, should be something that Fullenkamp and Brackman are used to after playing in the MAC.
"The MAC has a lot of good teams and every week was a battle," said Fullenkamp. "Going to play in the OAC will be just as tough. Donnie Gillis (a standout linebacker at Coldwater two seasons ago) is up at Heidelburg. That gives me a chance to play against one of my friends and former teammates."
"Josh said it best. He has not had the ability to play healthy for so long," said Reed. "When you think of what he has accomplished playing on one leg for as long as he did, it's unbelievable what he was able to do. If he can get that healthy, I think he'll be a tremendous surprise. It won't be a surprise to us, but he will be at Capital."
Brackman, a 6-2, 193-pound linebacker-reciever, was a mainstay on one of the stingiest defenses in the area, which allowed just under 10 points a game during the season. Brackman lined up at outside linebacker in the 4-4 defense. Brackman was second on the team in sacks with 71/2 and third on the team in tackles with 83. Brackman also two interceptions, both going for touchdowns.
"They have a very good education program," said Brackman, who will major in education. "I'm really excited about that."
The similarities of the Capital athletic program and Coldwater's also attracted Brackman.
"Capital, athletically, reminds me of Coldwater with what they (Continued from page 1B)

do there," said Brackman. "I was looking for the program that had the discipline in the football program that I was fortunate to have in my four years here. They run a lot of the same things as Coldwater, such as the spread offense. They throw the ball about 90 percent of the game. I really liked the coaching staff. It reminded me of the Coldwater staff."
On offense, Brackman was just as lethal. Backman was second on the team in receptions with 35 for 411 yards and four touchdowns. Brackman was selected second-team All-Midwest Athletic Conference on both offense and defense but earned higher honors from the Associated Press, earning first team all-District at defensive end and Special Mention All-Ohio.
Backman will look to play on both sides of the ball for now.
"I truthfully want to play both ways," said Brackman. "I'd like to play linebacker and not have to leave receiver. Whatever fits best for them."
"Kevin was probably as big a step from a junior to a senior that we have seen," said Reed. "He just brought his game to an all-together different level. Such an example-setter for all of our kids. He'll do well at the next level because he has the skills. to play at the next level, plus he has the work ethic to get through the tough times."