By Marc Tobias
mtobias@dailystandard.com
NEW KNOXVILLE -- St. Henry was able to go on the road and pick up its third Midwest Athletic Conference baseball victory in easy fashion as it was able to knock off New Knoxville 12-0.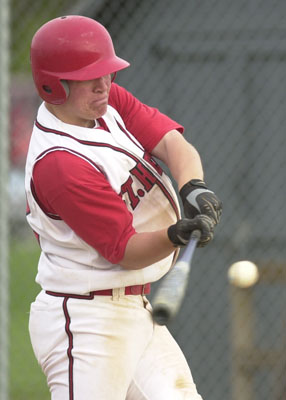 The Redskins received a strong start from Zach May who didn't allow a run and just two hits in five innings of work.
May was in top form, as his curve ball forced a lot of ground ball outs and he didn't allow a single walk while striking out four Ranger batters.
"He did a nice job changing speeds, and he got ahead of most batters in the count," said St. Henry coach John Dorner. "He pitched a nice ball game and both hits you could almost consider infield hits, one got though but it was a slow hit ball. He pitched a smart game and that's the way he's been throwing and I'm real proud of his effort."
Kale Wierwille had some control problems and took the loss for the Rangers. Wierwille allowed all 12 runs (seven earned) on eight hits. On the offensive side of things St. Henry was able to get its bats going early, and add in some defensive miscues for the Rangers and it led to a couple long innings for New Knoxville.
St. Henry scored one run in the top of the first thanks to one of four Rangers errors, and then the 'Skins tacked on three more in the second.
Andy Puthoff singled and later scored on a wild pitch, and then Andy Huelsman reached on a single and Rick Bergman was hit by a pitch.
Evan Bertke then drove in two of his game high five RBI with a single up the middle to end the Redskins scoring in the second.
"We took advantage of some miscues they had in the field, but we came back and started to hit the ball better and that was good to see," Dorner said. "We got everybody in the ball game and that's always good to do at this time even if they get just one at-bat, just keep them fresh because you never know when we might need them come the tournament trail."
Bertke finished with a 2-for-4 night while Puthoff was 1-for-2 with two runs scored.
St. Henry then broke the game wide open in the top half of the third when it scored seven runs on five hits and two New Knoxville errors.
Josh Schmackers led off the inning and was hit by a Wierwille pitch, and then Brady Schmitz and May hit singles to load the bases.
Puthoff brought home a run on a New Knoxville error, and then Huelsman walked and Bergman reached on an error to plate two more runs.
Bertke then had a three-run triple and he later scored on a Bryan Post groundout.
"We give them so many outs every inning, it's hard for anybody to win. We don't make the routine play a lot and that doesn't help your cause," said New Knoxville coach Brad Mendenhall. "You just have to go out there and be mentally tough, stay in the game and don't let things pile up."
St. Henry tacked on one more run in the third when Schmackers came up for the second time and doubled, and he was later brought home on a Schmitz RBI single.
Schmitz finished with a 2-for-3 day at the plate, with one run scored and one RBI.
St. Henry improves to 13-7 (3-2 MAC) while New Knoxville falls to 4-11 (0-4 MAC).
The Redskins return to action Tuesday when they host Versailles while New Knoxville travels to Riverside today.
Phone: (419)586-2371, Fax: (419)586-6271
All content copyright 2004
The Standard Printing Company
P.O. Box 140, Celina, OH 45822