By Gary R. Rasberry
grasberry@dailystandard.com
Lindsey Wilson is not the name of Kara Osterfeld's college roommate. It's the name of the school the Celina senior will attend next fall.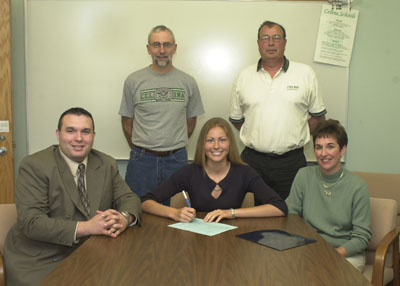 Osterfeld will head to the Columbia, Kentucky, NAIA school, located about six hours from Celina and south of Louisville, to play for a program that went to the NAIA National Tournament in the spring.
"They're really nice people," said Osterfeld. "The coaches are the nicest I talked to. When I talked to them over the season, they probably called 30 times. It seems like a family down there I could get used to."
How the Blue Raiders came in contact with Osterfeld was through LWC intern Kyle Schmidt, whose father Dave is the scorekeeper for the Lady Bulldogs.
"(Kyle) would say some things about (Celina) and would send information up here," said Osterfeld. "It was basically through (Dave) I found out about the school. It's a really small school, real hilly since it's in the middle of Kentucky. It's a nice environment. "When I visited and talked to the people, I knew it was going to be one of my top choices, but a couple of other colleges gave them a run for their money."
Education is also a choice. LWC has a strong special education program, which is what Osterfeld intends to major in.
(Continued from page 1B)

The 6-0 swing-player will bring a mix of ball-handling and shooting to the Blue Raiders next season. Osterfeld averaged 9.8 points per game last season, second best on the team behind Kelli Williams. Osterfeld also averaged 3.5 rebounds and 1.67 steals per game. Osterfeld hit 26 three-pointers on the season and was a solid 73.3 percent (66-of-90) from the foul line. Osterfeld also was named to the District 8 All-Star Game.
One thing Jack Clouse, who retired after the season as head coach, thinks will make Osterfeld a solid player is her work ethic, something he noticed from watching her go from junior high through high school.
"The important thing is (she's) a quality person," said the veteran coach. "You go back when she was in junior high, and I use her as an example to the rest of the kids, she really didn't get to play much. You're talking about a 'scrawny' girl. She kept working at her game. That is something we can all learn from. She never gave up."
Assistant coach Eddie Ingle, who made the trip up with Kyle Schmidt for the signing and is the top recruiter of the program, thinks that Kara can keep expanding her game.
"It's amazing. You find (players) in a lot of different places," said Ingle. "Dave did a great job keeping us updated on Kara and Jack did a great job. ... I think she offers a complete package. Offensively, I think her best days are still ahead of her, not saying she's bad now. Her best days are ahead of her in terms of driving and other things. That's one thing we've talked about. She's already made improvements."
Phone: (419)586-2371, Fax: (419)586-6271
All content copyright 2004
The Standard Printing Company
P.O. Box 140, Celina, OH 45822