By Margie Wuebker
mwuebker@dailystandard.com
MARIA STEIN -- The smell of freshly baked bread welcomes visitors to the home of Rich and Agnes Schulze.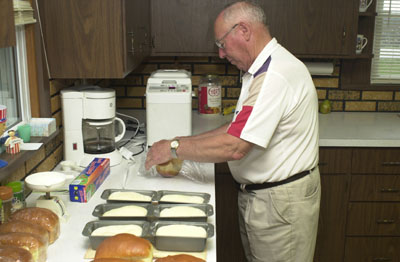 Thirty miniature loaves, all neatly wrapped in clear plastic, fill the kitchen table awaiting transport to St. John Catholic Church as a special gift for boys and girls making First Communion Sunday afternoon.
Known as "The Bread Man" in these parts, Schulze mastered the technique while recuperating from a debilitating stroke that struck without warning in November 1997.
After spending several months in the hospital and then a rehabilitation center, he returned home faced with the challenge of relearning tasks like walking without assistance and eating without a feeding tube.
"I was determined to get rid of the wheelchair once and for all," he says with a chuckle. "I used to walk along the kitchen cabinets holding on for dear life." Having worked 39 years as a carpenter and six years as a maintenance man at the Mercer-Auglaize County Family YMCA, Schulze said he was not content to sit and do nothing. He wanted something to fill his time as well as therapy to exercise weakened muscles in his left arm and hand. His wife's bread machine, sitting idle on the counter, seemed to fill the bill.
He initially made bread for family members, including seven children and 14 grandchildren. It wasn't long before he was toting loaves to Mercer County Community Hospital in Coldwater.
"I decided to bring the physical therapists some in hopes they would take it easy on me," Schulze says with a mischievous twinkle in his eyes. "One gal at the desk claimed her loaf never lasted long -- she just pulled off pieces and ate it that way without butter. I quickly became known as the bread man."
Daughter-in-law Julie Schulze, a registered nurse at the hospital, collected orders from co-workers. Donations covered the cost of ingredients even though he charged nothing. His repertoire quickly expanded from standard white bread to egg, raisin, wheat, pizza and sweet varieties as he tried new recipes and a few experiments.
He gave bread as a tasty thank you to neighbors, friends and even the folks at the local insurance office. His wife even handed out some as prizes to fellow card club members. Supplying loaves for first communicants became an annual tradition. It is difficult to tell who enjoys the ambitious project most -- the 76-year-old baker or the second-grade recipients.
"Oh, I had some flops in the beginning," he says with a sigh. "The first time I tried wheat bread the dough didn't rise worth a darn. I experimented another time by adding garlic powder along with the other ingredients. It came out one sticky, gooey mess. That was the first and last time I pulled that trick."
With several thousand loaves to his credit, Schulze no longer refers to his "tried and true recipes," as the appropriate amounts of sugar, margarine, milk, eggs, yeast and flour have been committed to memory.
The bread machine assures uniform mixing and adequate kneading in a process that takes 1 hour, 40 minutes. He then removes the fragrant dough and divides it into greased loaf pans. Each batch yields enough for six 6-ounce loaves.
The pizza variety entails extra steps, including rolling out the dough pie crust fashion before adding liberal amounts of Mozzarella and Parmesan cheese and thinly sliced pepperoni. He then rolls up the lot jelly roll fashion and allows it to rise before baking. Each loaf -- no matter what the variety -- gets the once over with margarine to make sure the top remains soft and shiny after a stint in the oven.
Schulze solved the matter of uniform rising by plugging in a heating pad. The warm surface accommodates six small loaf pans at a time with the dough responding favorably.
"You can harness the warmth of the sun streaming through a window on nice days," he says. "But the heating pad works just as good even on the dreariest of days."
While large loaves provide more bread to enjoy, Schulze prefers the more compact size. He claims the finished product tastes better, lending credence to the adage "good things come in small packages."
Agnes Schulze has no complaints when he heads to the kitchen. His bread is a welcome addition to the menu and there is added plus -- he leaves neither a dusting of flour on the countertop nor a stack of dishes in the sink.
"I clean up my own mess," he says. "That way I'm welcome to come and go when the bread mood strikes."