By Marc Tobias
mtobias@dailystandard.com
NEW BREMEN -- St. Marys and Wapakoneta were the big winners at the 2004 Cardinal Invitational as both took home team titles, but it was a home crowd birthday boy that stole the show.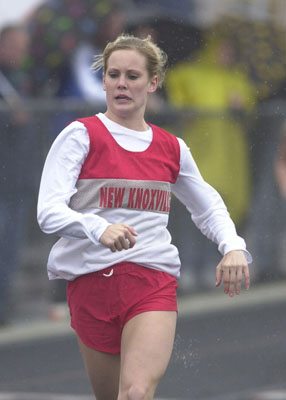 New Bremen's Troy Lammers won three events on his 17th birthday Saturday and in the process set three meet records.
"Earlier in the year he had a slight hamstring injury, not a pull, but it was sore so we kept him out of things, and I think he's getting healthy, he's looking pretty good," said New Bremen coach Gary Jones.
On Saturday, Lammers was more than just pretty good. In addition to the three meet records, he also set school records in both hurdle events.
Lammers won the 110- and 300-meter hurdles with times of 14.69 and 39.58 and then finished the 200 meters with a time of 23.04. "Perfect day so far, hopefully, I can get another one going in the 200, I just felt really comfortable," Lammers said after his 300-meter hurdles race.
The Cardinal boys finished third in the 15-team field with 80 points thanks to Lammers' strong day, and only trailed Coldwater which had 125 points and winner Wapakoneta's 128 points.
"Our guys came up strong. David (Wilker) was a surprise with his 10:03 two mile, that's his best time by probably 21 seconds, but Marty (Schoenherr) was his usual strong self with his mile and 800," said Coldwater coach Dan Pohlman. "We always look at those guys because that's kind of our strong point. We were very happy with that, and Cody Dues got first in the shot for us and it was just an overall strong team effort."
Schoenherr set the meet record in the 800 with a time of 2:00.94 and he won the mile with a 4:32.74.
"I just wanted to stay back because I figured I'd have a better kick than them, so I just wanted to stay back to the 200 mark and then go after them," said Schoenherr of his strategy in the 800. "Very happy with the time, it's my fastest this year."
He was also part of the winning 3200-meter relay team with Wilker, Kyle Rutschilling and Brian Boeke while Schoenherr was also on the Cavs' 1600-meter relay team that finished first along with Rutschilling, Boeke and Kyle Homan.
In addition to winning the two mile, Wilker also finished fourth in the mile while Rutschilling finished second in the 800.
Dues won the shot for the Cavaliers with a toss of 48-feet-61/4 inches. He also finished third in the discus with a throw of 140-feet and four inches.
Rounding out the final team standings for the boys were Delphos St. John's in fourth place with 68 points, Marion Local 54, St. Marys 40.5, Sidney Lehman 26.5, Waynesfield-Goshen 25, Crestview 25, Parkway 23, New Knoxville 23, Anna 19, Spencerville 11 and Delphos Jefferson one.
Other area winners were New Knoxville's Tom Wiest in the 100 with a time of 11.60, he also finished third in the high jump by clearing six feet.
Marion Local's Lee Schwieterman took home the high jump title by clearing 6-feet-4 inches while Coldwater's Ben Pax won the pole vault by clearing 14-feet-6 inches. Pax also placed sixth in the 100 and eighth in the 200.
Marion Local's Ryan Stucke finished fifth in the 100.
Other top performances on the boys side in the field events were Parkway's Brandon Bowen who had a jump of 20-feet-2 inches, good enough for second in the long jump. New Bremen's Chris Grant and Coldwater's Devin Swartzel finished fourth and fifth in the long jump.
Bowen also took third in the 200 while St. Marys' Bryan Cook finished sixth, meanwhile, Swartzel also took home a fifth-place finish in the 110 hurdles.
Jeff Thobe finished fifth in the shot put for New Bremen while teammate Kevin Heitkamp took fifth in the pole vault. St. Marys' Nick Fortman took sixth in the pole vault while Parkway's Jason Fisher took sixth in the discus.
In running events, St. Marys' Kyle Vossler had a strong day by finishing third in both hurdle events while Coldwater's Lee Homan and Lucas Eichar took fifth and sixth in the 300 hurdles.
New Bremen's Jacob Larger, Coldwater's Joe Wermert and Marion Local's Lee Homan finished third, fourth and sixth in the 400 and St. Marys' Michael Doenges and New Bremen's Josh Schwable took third and fourth in the 800.
Coyle Bradford finished third in the two mile and was joined by Marion Local's Ryan Winner who placed fourth and Jason Bruns of Coldwater who took sixth.
On the girls' side, St. Marys edged New Bremen 77.5 to 75 with Spencerville in third with 73 points and Fort Loramie and Wapakoneta tied with 69 points.
"It's a good confidence builder for our girls, they ran really well against tough competition today, 15 good teams and they performed really well today," said St. Marys coach Dan Cook of his girls. "We're trying to overcome some injuries and some illnesses and I think we're starting to click on all cylinders and I think all of our girls are starting to perform to the best of their abilities. We still have a couple of girls out, but we'll be on all cylinders for the WBL which is only a couple of weeks away."
The Roughriders' 800 team of Krissy Haines, Hannah Brautigam, Emily Hurlburt and Jasmine Craft helped lead the way by breaking the meet record with a time of 150.36.
"It's awesome, we actually had the same time a few days ago in another meet, we're getting excited because our coaches are telling us we could possibly make it to state which is really exciting to know and we just want to come here and do our best and prove to people that we are a good team," said Haines who also finished fourth in the 100 and 200.
Brautigam also had a solid day as she also finished third in the 200 and sixth in 400.
Jasmine Craft won the 400 for the Lady 'Riders with a time of 61.37 while Elaine Schaaf was second in the 800, sixth in the pole vault and part of the St. Marys 1600 relay that took fourth.
Erica Bruggeman broke the meet record in the pole vault for St. Marys, but she finished second to Coldwater's Janelle Jansen who went six inches higher at nine-feet-three inches. Kerri Imwalle finished sixth in the shot put for St. Marys.
Marion Local's Abby Schulte proved to be the fastest girl on Saturday, as she won both the 100 and 200 with times of 12.83 and 27.12.
"Last year I didn't get a 12.8 until districts, and we're around the halfway point this year I've already got it, so I was really excited about that," Schulte said. "Every practice I just work really hard to get to state, that's all I think about."
Coldwater's Karla Niekamp was also a winner as she took the 100 hurdles with a time of 16.55. New Bremen's Robyn Garman finished third in the 100 and 300 hurdles with teammate Melody Westerbeck was sixth in the 300 hurdles. Marion Local's Bridget Schmackers was sixth in the 100 hurdles.
New Knoxville finished sixth in the team standing with 52 points because of some strong relay performances. The Rangers quartet of Gina Bambauer, Meredith Fledderjohann, Emily Wirwille and Hannah Spieles won the 1600 relay while the Rangers also finished second in the 400 and 800 relays, and fourth in the 3200 relay.
Fledderjohann also came in third in the 400 and second in the high jump ahead of Liz Schnelle of New Bremen and Jodi Winner of Marion Local who placed fourth and fifth. Bambauer finished second in the 100 for the Rangers.
Other strong finishes in field events came from the Cardinals Anna Schlater who won the discus with a throw of 110-feet-8 inches. Schlater also placed third in the shot put while Brittany Klenke of Coldwater took sixth in the discus.
New Bremen's Ashley Long took third in the long jump while Jenny Hartings of St. Marys placed sixth.
Top distance finishes came from Nicole Schaefer of Marion Local and Kayla Schwaiger of New Bremen who finished third and fifth in the 800 while Trisha Bruns of Marion Local and Jill Vonder Haar of Coldwater took fourth and fifth in the two mile.
Stephanie Wenning finished sixth in the 200 for Coldwater.
Rounding out the girls team scores were Marion Local seventh with 48 points, Coldwater 44, Anna 36, Crestview 33, Delphos St. John's 32.5, Waynesfield Goshen 21, Arcanum 15, Delphos Jefferson 9 and Sidney Lehman 8.