NEW BREMEN -- The Marion Local Flyers used solid defense, timely hitting and a dominating pitching performance by senior Dana Hartings to defeat the Minster Wildcats, 2-0, Monday afternoon in the opening game of the Division IV sectional softball tournament at New Bremen High School.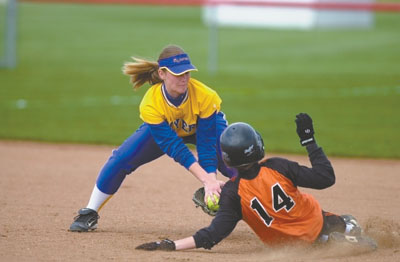 The win moves the Flyers to the sectional final Monday against the top-seeded New Bremen Cardinals.
Hartings had a typical Hartings performance, as she struck out 15 without walking a batter. The senior righthander allowed just three base runners -- all singles, two off the bat of Val Bornhorst.
The Wildcats had just one legitimate chance against Hartings, coming in the fifth. Bornhorst led off with a single and stole second. After Kelly Borger popped out on nice play by Flyers catcher Megan Homan, Bornhorst eventually stole third before Hartings got Laura Morsey and Erin Stueve to strike out to end the inning.
Hartings finished the game strong as she set down the last nine Wildcats she faced, striking out five. "Dana had another outstanding performance," said Marion Local coach Gary Moeder. "Couple of the hits were just where they stuck bats out."
"Give Dana a lot of credit, she was tough," said Minster coach Deb Smith. "She's a very tough pitcher that only gets better as the game goes on."
The Flyers offense had several chances to dent the scoreboard but needed only one as they scored twice in the first off Stueve. With one out, Abby Homan walked and after the second out was recorded, Hartings doubled in the first run of the game. Jennifer Rose then came through with an RBI single to make the score 2-0.
"We hit the ball hard all day, after the first inning we just hit the ball right at people," said Moeder. "We laid it in the hands of the two girls we have all season and they came through. That's what you want out of your four-five hitters and they got the job done."
"Erin had one bad inning and the problem was I don't think she was properly warmed up," said Smith. "I really think if we could of got out of that inning I think we would still be playing. "
The first inning runs were the only blemish on an otherwise good performance by Stueve. Stueve allowed just four hits and two runs.
Minster returns to action tonight with a home, non-conference game against Crestview. Marion Local is back in action tonight as well hosting Fort Loramie in a non-conference game.
Phone: (419)586-2371, Fax: (419)586-6271
All content copyright 2004
The Standard Printing Company
P.O. Box 140, Celina, OH 45822