By Marc Tobias
mtobias@dailystandard.com
Celina's Western Buckeye League baseball title hopes took a bit of a hit on Tuesday against Defiance when the hometown Bulldogs ran into a buzzsaw named Johnathon Niese.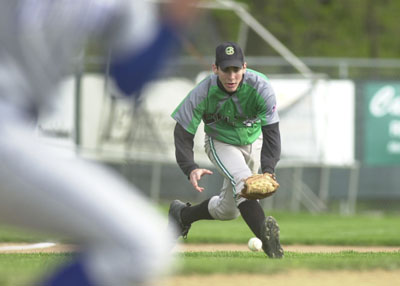 Niese was phenomenal for Defiance, as the lefty came one out away from firing a no-hitter against Celina while compiling a 4-for-4 day at the plate.
A Brian Geise single with two outs in the bottom of the seventh was the only thing keeping Niese from having the near perfect day.
Niese helped Defiance, ranked No. 7 in Division II, to come away with a 5-0 win, and more importantly, move to 5-0 in the WBL. Celina, ranked No. 6 in Division I, suffered its first league loss to drop to 4-1 in WBL play.
Niese finished with 10 strikeouts while allowing just two walks and one hit batsmen to pick up the complete-game victory. "He's the best we've seen all year," said Celina coach Bruce Boley. "Defiance always seems to have a run of guys, an all-star cast of people they could run out on the mound, and he definitely ranks in with the best of them."
It was the second straight game where Celina appeared to struggle a bit at the plate, but still the Green and White entered yesterday with a team batting average of .373 while scoring approximately nine and a half runs per game.
"It's just great to get out of here with a win in Celina," said Defiance coach Tom Held. "John beat a very good team, a team that can hit and then you throw in the rest, a shutout and a no-hitter through six and two-thirds, I mean what else can you say? John's been strong all year and when he throws strikes he's been pretty dominant.
"There's a difference beating and shutting a team down, and then beating a great team like Celina, that shows you what kind of pitcher he is," Held added.
Niese got all the run support in a mistake-filled first inning for Celina.
Defiance had its first two runners reach base on an error and a walk, and then Austin Keel followed with a two-run single for an early 2-0 lead. Keel then stole second, and Niese reached on a bunt to put runners at the corners.
Celina starting pitcher Brian Gagle was then called for a balk, allowing Keel to score from third which also moved Niese to second base.
Niese then advanced to third on a Will Swary groundout to second base, and later scored on a Gagle wild pitch for a 4-0 first-inning lead.
"Some insurance runs, as a pitcher I like that, it gives me room to pitch," Niese said. "It's a good win, I"m glad to get a win against the fifth-ranked team in Division I, to shut them out and get a one-hitter is surprising, but I like it. My changeup and curve was on, I had total command out there and that's what I needed to beat a good team like Celina."
Boley said afterwards that he would have loved to have had the first inning back.
"We just didn't make a few plays and a few pitches that had to be made. What did they make, four runs on two hits? Needless to say you have to tip your hats to them for executing and making the most of their opportunities," Boley said. "That's the name of this game, had they only gotten one or two that inning, who knows. But then again we didn't swing the bats too well and Niese had a terrific ball game."
Geise relieved Gagle for one batter to end the first, and then Gagle reentered on the mound and settled down and pitched well the next five innings, but with the home team bats unable to touch Niese, the four runs in the first were too much to overcome.
Celina had one runner reach scoring position for the game when Brad Niley got to second base in the fifth inning after getting hit by a pitch, but Niley was then picked off by Niese on a nice move to second.
"I'm very pleased with our guys, we put a bunt down we ran the bases and that's what we've done all year, we try to put the pressure on the defense and this is the fastest team we've had since I've been at Defiance so that's what we try to do and it worked out today," Held said.
Defiance finished with four steals and eight hits for the game. Defiance improves to 16-4 overall while Celina falls to 18-5.
"The way this league is, you hope that somebody can knock them off and we can win out and get a piece of it," Boley said. "We're just going to shoot to be 8-1 in the league if we can, but there's a lot of tough ball games in between too."
Celina returns to the diamond on Thursday in tournament action against Perrysburg in Bowling Green.