By Margie Wuebker
mwuebker@dailystandard.com
FORT RECOVERY -- Senior Kurt Wendel looked down the long table filled with big kids and little kids at Fort Recovery Elementary/Middle School. Finding no empty places, he and kindergartener Jacob Clark settled down on the carpeted floor in the combination auditorium/cafeteria to review the prom promise.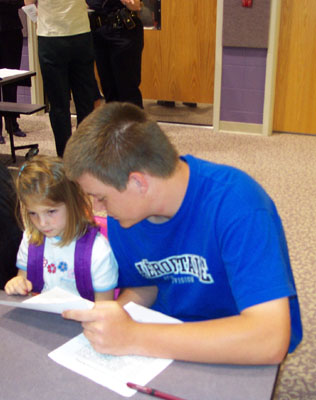 dailystandard.com">
"I promise to my prom buddie that I will stay drug and alcohol free at Fort Recovery High School's prom," Wendel said as his "prom buddie" nodded in agreement. "As part of this promise, I will have a great time with my classmates and friends without using drugs or alcohol."
Clark listened intently as his role model read the first two sentences of the promise. Then both signed the document -- Wendel quickly scrawling his signature in ink and the younger boy methodically printing the letters of his first name, one after another.
Twenty-three juniors and seniors are participating in the program launched this year by FORT (Focusing on Responsible Teens) as well as the high school student council and the Students Against Destructive Decisions chapter.
Fort Recovery Police Chief Maggie Hartings proposed the idea to superintendent David Riel and high school principal Ed Snyder as plans for tonight's prom were under way. Both administrators endorsed the idea without hesitation. "We did not get 100 percent participation from juniors and seniors, but 23 decided to stand up and make the statement drugs and alcohol are not OK," Hartings said. "That is absolutely wonderful and these young people are to be commended. I am so proud of them."
Junior Ross Dilworth decided to participate in order to set a good example for his younger sister, Nicole, a fifth-grader.
"Maybe this will help her make better choices in the future," he said. "I hope she remembers the purpose of this whole thing when she gets older. You can have fun without drinking."
The two sat close together reading the remainder of the pledge -- "This promise is important to me, and I want to serve as a role model for my prom buddie. I feel this special commitment to my buddie will demonstrate to them to always make good decisions when faced with peer pressure."
Hartings reminded the teenagers of the importance of making and then keeping a promise. Clark looked up at his buddie and shook his head in agreement.
"You can't break a promise," he said solemnly. "That wouldn't be very nice."
Preschooler Peyton Welsch smiled when asked why she wanted to be senior Nick Wehrkamp's prom buddie. It didn't matter in the least that he had been teasing about all the important papers stuffed into her pink backpack.
"I like him and I don't want anything bad to happen to him," she said matter-of-factly. "It would be really bad if he got hurt out there on the road."
Wehrkamp ruffled the little girl's hair and said, "I got involved because I think it's important to set a good example for young kids. Maybe she will do the same in the years ahead."
The prom buddies, ranging from preschoolers to fifth-graders, will be guests of honor at tonight's prom promenade with reserved seating on the lower level of the gym. They will be announced along with the escort for each participating junior and senior. Following a group picture, the couples will head out for an evening of fun while the youngsters will head home with a commemorative balloon.
FORT was organized in the spring of 1997 to challenge students to make good choices by avoiding participation in risky behavior. It has supported social activities for middle and high school students since that time thanks to donations to the Combined Charities drive in the community. The most recent donation of $500 benefitted tonight's after-prom party.
"We are hoping Prom Buddies will become an annual program," Hartings said. "It serves as a message to parents as well as students in southern Mercer County that alcohol is not OK and neither are drugs."
Phone: (419)586-2371, Fax: (419)586-6271
All content copyright 2004
The Standard Printing Company
P.O. Box 140, Celina, OH 45822