By Marc Tobias
mtobias@dailystandard.com
If Friday nights Celina track and field Invitational holds true to form, then there should be some intriguing battles during next weeks Western Buckeye League meet between St. Marys and Celina.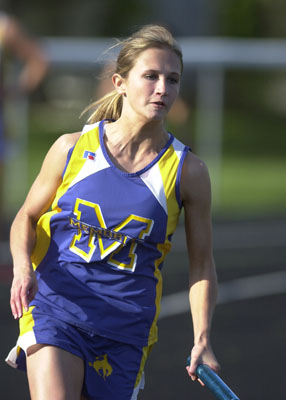 While no points were scored during the meet on Friday night, both WBL squads, along with five other teams, got a nice practice meet under their belt before trying to claim league titles next weekend.
The Roughriders and Bulldogs battled all night, and both saved their best efforts for the last race of the evening.
Celina's Jenna Schmitmeyer, not normally part of the 1600-meter relay, was able to run a fantastic final leg to help the Bulldogs edge New Knoxville by 37 hundredths of a second and St. Marys by just over two seconds. Celina had a winning time of 4:14.22.
In the boys 1600-meter relay it was St. Marys getting a phenomenal final leg from Nick Yahl to help the Roughriders sneak by Celina's Grant Riesen by just 13 hundredths of a second. The 'Riders winning time was 3:35.04. "What a tremendous way to finish the race, we had a new guy that was injured in there, which was Justin Nagel who ran a great split. Just a tremendous victory for all four boys," said St. Marys coach Cory Ahrens. "We wanted to use this meet as a stepping stone for the league and the boys really want to get after it. We feel we can compete as well as anybody else. I've said all along the league is going to be tough, though, but I've told my boys that and they're going to have to step up and perform well and compete with the best to be the best."
Celina coach Dan Otten said the final legs by Schmitmeyer and Riesen were both the best split times those two runners have had all season long.
"I like how the boys competed against St. Marys in some of those relays," Otten said. "I think our boys have kept getting better and St. Marys was a good team for us to go against. At the beginning of the meet I was worried about how we might approach it as a scrimmage because there was no team score, a lot of times without that team attitude you might not drive as hard, but once you get into those relays it just gets right back after it."
Both the 'Riders and Bulldogs had some excellent meets from their respective athletes.
Kyle Vossler continued his strong season in the hurdle events, as he won both the 100 and 300 with times of 15.59 and 40.87.
Erik Chapin finished second in the 110 hurdles for Celina while also winning the high jump over New Knoxville's Tom Wiest. Chapin cleared 6-feet-4 inches to claim the victory. Shawn Caruso finished third in the 300 hurdles while St. Marys' Andrew Styer took third in the 110 hurdles.
"We were tremendously happy with a lot of our athletes tonight, and all the way around," said Ahrens. "Our hurdles, our sprint events, our relays and our field events did a great job."
Wiest had a big day for the Rangers, in addition to his second in the high jump he claimed victories in both the 100 and 200.
"The was the first night Tom Wiest ran the open 200, and he won that event which was what we wanted to see because we think he can really advance in that at the district and regional," said New Knoxville coach Jerry VanderHorst.
Celina and St. Marys also had some nice battles in the distance events. For instance, in the 800 where Riesen won with a 2:03.86 for the 'Dogs with Michael Doenges second for the 'Riders and Shaun Fent third for Celina. Jason Durkee claimed a second in the two mile for St. Marys while Celina's Chris Johnson was third.
New Knoxville's Jason Shaffer also fared well in the longer events, as he took second in the mile.
Kelly Mallory ran a 53.20 for Celina in the 400 to edge Yahl of St. Marys for second place in what could make for an interesting rematch next week.
Other top area boys finishers were Nick Fortman and Alex Spencer, who took first and second for St. Marys in the pole vault. Meanwhile, fellow 'Riders teammate Clifford Powell got third in the long jump.
Josh Roth finished second in the discus for Celina.
On the girls side Krista Sanford took first in the shot put for St. Marys with a toss of 31-feet-10 and half inches, while Jen Brackman of Celina finished third.
Then it was Brackman edging out Sanford for the victory in the discus, as Brackman's toss of 91-feet-8 inches was the best overall throw by over six feet.
The WBL also took the top three slots in the high jump, where Amy Buck won for St. Marys while Celina's Betsy Hone and Beth Braun took second and third.
Celina also got nice performances in the long jump where Sarah Lange won with a jump of 14-feet-10 inches, while her teammate Laura Snyder took third. Lange also finished third in the 110 hurdles.
Erica Bruggeman and Elaine Schaaf, meanwhile, took first and third for St. Marys in the pole vault. Schaaf also won the 800 with Celina's Karlyn Pease and Kara Osterfeld finishing second and third.
Schmitmeyer had another solid day for the Lady 'Dogs, in addition to doing her part for the winning 1600-meter relay team, she was able to claim a victory in the 300 hurdles and a second in the 100.
Gina Bambauer finished third in the 100 for New Knoxville.
Area athletes also did very well in the distance events, as Celina's Brittany Wenning won the two mile with a time of 12:17.52. St. Marys' Emilee Green took second with New Knoxville's Victoria Wager third.
Kimber Brown took a victory in the mile for St. Marys with a time of 5:50.89, while Celina's Amanda Smith and Heather Petrie finished second and third.
Lindsey Schmitmeyer picked up a nice win in the 400 with a time of 63.58 to knock off St. Marys' Hannah Brautigam and New Knoxville's Emily Wirwille.
Krissy Haines had a light day for St. Marys, but did come in second in the 200.
St. Marys and Celina will see its WBL title hopes commence on Thursday in Celina with some mainly preliminary races but some field event finals with the meet's final outcome being determined on Saturday.
New Knoxville, meanwhile, will start its run in the MAC meet Tuesday at Coldwater.