By Nancy Allen
nallen@dailystandard.com
The former Rankin's store on Main Street in Celina has undergone a lot of changes in the last two years since it changed hands and now it has a new name as well.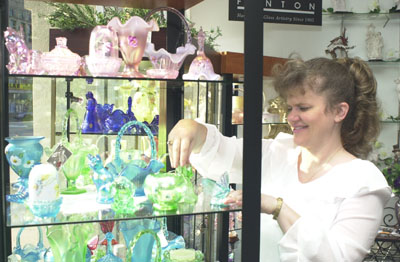 Etcetera will be the moniker on the storefront's canopy, courtesy of Celina resident Jan Hemmelgarn, whose entry was chosen in a contest held recently to rename it. Hemmelgarn received a $500 gift certificate to the store for her winning entry.
Owner Michelle Dieringer, Celina, said she decided to change the store's name to reflect the changes it has undergone, including an expansion about a year ago and the addition of numerous, higher-end gift items and collectibles.
"Because I made so many changes inside, a lot of people were saying to me, 'you know, this just isn't Rankin's anymore,' " Dieringer said of her decision to rename the store at 105 S. Main St. "I wanted to help people realize the changes that were made inside and I also wanted to add my own touch."
Dieringer, 35, bought the business from Celina residents Bill and Anna May Rankin in July 2002. The Rankins purchased it in 1955 from Bill Bair, who also used to operate the nearby Bair Pharmacy. Originally the Rankin's building was the Lake Theater. In fact, an old cement stage still exists in the back of the store, which Dieringer uses for storage. A year ago, Dieringer expanded the store into the former City Loan building next door, doubling its frontage for the numerous new gift items she began offering. She now has 248 different vendors she buys from.
She is the only full-time employee and there are 11 part-timers.
Her best selling lines are Fenton art glass, Colonial Candles, Vera Bradley handbags and Renaissance greeting cards. Thomas the Train wooden trains and accessories also are favorites with children, who come into the store more regularly now, she said.
Dieringer said people have noticed the changes in the store and the business is doing incredibly well thanks to their patronage. Every month since she purchased it, her business has grown, she added.
Dieringer said she is proud of how well the shop is doing and proud for Celina's downtown, which like many small city downtown areas has struggled in recent years to stay viable.
"A lot of customers have mentioned that they never go out of town to shop anymore ... That makes me feel good," she said.
To celebrate the store's new name and other changes, Etcetera will hold an open house today through Saturday, offering 25 percent off all items storewide.
There will be refreshments, door prizes and balloons for the children. The store's hours are Mondays through Fridays, 9 a.m.-8 p.m., and Saturdays, 9 a.m.-5 p.m. It is closed on Sundays.