COLDWATER -- Coldwater and St. Henry clinched sectional crowns and will clash on May 17 in the Division III district semifinals after eliminating their opponents on Saturday.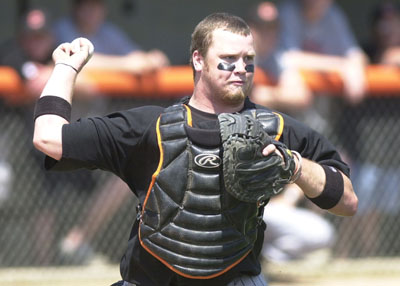 Coldwater (20-3) blasted St. John's (7-11), 13-3 in the first game, and St. Henry (14-9) capitalized on a pair of critical Parkway errors that opened the floodgates in a seven-run third inning in the Redskins' 11-8 win over the Panthers (10-12).

Coldwater 13, St. John's 3
Brent Schwieterman's two-out, two-run single in the first enabled the Cavaliers to get in front early, but it was a big five-run fourth inning that really put the game away. Schwieterman played a major part in each of the innings. In the first, Craig Wellman led off the game with a single, and the Cavaliers loaded the bases when the Blue Jays' Jesse Kill hit Chad Geier and Dusty Ahrens with back-to-back pitches. Kill retired the next two batters before Schwieterman lined a shot to right that scored Wellman and Geier.
"This was a great game for Brent Schwieterman," Cavaliers' coach Brian Harlamert said. "He's been in a slump lately, and getting two singles, a triple and a sacrifice fly and driving in four runs is an excellent job for someone that's been slumping. You need a big clutch hit like he had, and we got 18 kids in the game and everyone contributed."
Brad Hanf's sacrifice fly in the bottom of the first pulled St. John's to within one, and the Cavaliers took the 2-1 lead into the fourth.
Tyler Schwieterman reached on an error to start the inning and Brent Schwieterman tripled to push the lead to 3-1 for the Cavaliers. Matt Howell followed with a home run to right-centerfield that made it 5-1. After Troy Siefring reached on a fielder's choice, Wellman doubled to score the run and Ahrens singled home the final run of the inning for a 7-1 Cavaliers lead.
"With Steve Wenning throwing, we felt if we could get a couple of runs early, we'd be in good shape," Harlamert said. "Loading the bases in the first with nobody out, and then getting a two-out single from Brent to get those runs in was definitely the biggest hit early on, and may have been the biggest hit of the game."
Kill's two-run homer in the bottom of the fourth closed the margin for the Blue Jays, but not for long.
The Cavaliers got two runs in the fifth off reliever Cory Bertling on run-scoring singles by Ryan Gerlach and Siefring, and added two in the sixth off Bertling on Ahrens' single and Brent Schwieterman's sacrifice fly. St. John's reliever Doug Hasenkamp surrendered the final two runs in the seventh inning, with both runs scoring on a Brady Geier single.

St. Henry 11, Parkway 8
Two Panthers' errors in the third inning allowed five unearned runs to cross the plate and gave the Panthers an early exit from the tournament.
Evan Bertke's double started the whole thing. Jeremy Schwieterman singled Bertke to third and Schwieterman stole second. Trailing 1-0, Parkway coach Eric Stachler made the logical move, pulling his infield in to give them a shot at the lead runner on a groundball.
Kyle Homan foiled that plan by ripping a single through the drawn-in infield, scoring both runners. Bryan Post singled and losing pitcher Dusty Zizelman hit Adam Puthoff to load the bases. Brady Schmitz followed with a groundball, but the throw home got through catcher Josh Crouch, with Homan scoring for a 4-0 lead. Winning pitcher Andy Dues lofted a short fly to left that was dropped for the second error, scoring Post and leaving the bases loaded. Andrew Huelsman walked to force home a run and Jacob Long came on in relief.
"I just told these guys that in a tournament game like this, the littlest thing can make the difference," Stachler said. "Those mistakes really cost us. We didn't make the plays we needed to make and it's just like when we played them in league."
Long got the first out of the inning by fanning Matt Schlater before Bertke delivered his second hit of the inning, a two-run single that made it 8-0.
"I'm quite a bit older than Eric, but he's probably got as much gray hair now as I do," Redskins' coach John Dorner said. "This was an epic battle. We've been struggling a little lately, falling behind and then going flat, so we wanted to get in front early. Our seniors said this was their season, they wanted to get some seniors in the lineup and do it. Kyle was one of those seniors. He came through with three hits, and a couple of big clutch hits today. That's the kind of senior leadership you need going down the tournament trail, especially against a team like Parkway, that's going to keep swinging the sticks and coming at you."
Parkway answered with five runs in the bottom of the third, getting the first one on back-to-back doubles by Rikki Covarrubius and Jason Shaffer. Ryan Kennedy singled and Long's double brought home the second run. Steve Hays scored a run with a groundout and singles by Lucas Luginbill and Tim Shellabarger added two more runs.
"When we got down 8-0, it would have been real easy to throw in the towel," Stachler said. "We didn't, we kept hitting, we got some more runs and we made it close. We needed a couple or more runners to make it interesting. Maybe we don't get started as quickly as we should, but we keep battling. St. Henry's a good ballclub. They won't give up, we won't either."
Schmitz singled in a run in the fourth and singles by Schweiterman and Homan added a pair of runs in the fifth inning. Parkway added two runs in the sixth on an error and a single by Shaffer.
Barry Peel's grounder scored another run off reliever Lee Stachler in the seventh, but Stachler got another groundball to Schweiterman at short to end the game.