NEW BREMEN -- The Fort Recovery Indians made a little history Monday afternoon as they won the school's first softball sectional title by defeating the St. Henry Redskins 7-5 in the Division IV sectional at New Bremen High School.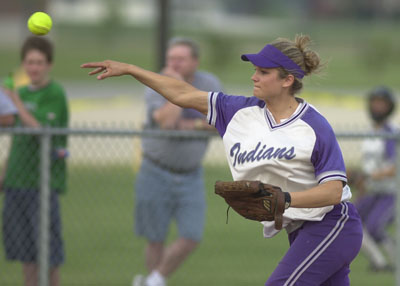 The Indians (15-6) now await the winner of Wednesday afternoon's Marion Local-New Bremen game in the district semifinal on May 18 at 5 p.m. back at New Bremen. St. Henry drops to 8-12 following the tournament loss.
"Winning the sectional was one of our goals and it feels great," said Fort Recovery coach Marie Osterholt. "We have a whole set of goals and we reached one and now we have a few more to try and accomplish."
The Redskins drew first blood in the second inning as Lindsay Thobe doubled with two outs and scored on a single by Brenda Hemmelgarn.
Fort Recovery came back with a little two-out scoring of its own in the bottom of the inning. Krystal Rammel singled to start the inning and after Brenda Rammel flew out, Julie Smith sacrificed Krystal Rammel to second. Renee Evers then reached on a St. Henry error before Kelsey Will came up with the big hit of the inning as she doubled to right, driving in two runs. The Indians took advantage of another Redskins error to key another two-run inning in the third. Ciera Rammel led off with a single and was sacrificed to second by Lisa Grisez. Joscie Kaup then reached on an error and Krystal Rammel walked to load the bases. Brenda Rammel then drove in two runs with a single.
Fort Recovery closed out its scoring by adding three more runs in the fourth. Singles by Ciera Rammel, Grisez and Kaup resulted in one run and Krystal Rammel added two more runs with a single.
"We got the big hits when we needed them," said Osterholt. "We battled the whole game, played tough and I'm proud of them."
"You can't give a good hitting team like them extra chances by committing errors," said St. Henry coach Josh Link. "They put the bat on the ball and you just can't give a team like that second chances. They made the plays tonight and we didn't. If we make the plays I think it's a different game."
Indian pitchers Julie Smith and reliever Alyssa Tobe sailed through the first four innings, allowing just one run on five hits. Things changed in the fifth as the Redskins scored twice off Tobe, with Kendra Buschur and Lisa Uhlenhake each driving in a run with a single to cut the Fort Recovery lead to 7-3.
St. Henry threw a major scare into the Tribe during the sixth, scoring twice and leaving the bases loaded. Mindy Siefring reached on an error to start the inning. Hemmelgarn followed with a single and Elking was hit by a pitch to load the bases.
A Danielle Kremer base it made it 7-4, forcing Osterholt to bring Smith back to relieve Tobe. Smith struck out Brittany Barlage for the first out and after a Megan Siefring single made the score 7-5, Smith induced Kendra Buschur to hit into a force play at the plate and struck out Uhlenhake to end the threat.
"We switched pitchers in third inning because her (Smith) ball was not moving," said Osterholt. "We brought in the second pitcher (Tobe) because she throws a little harder and her rise ball has a little more pop. Once they adjusted to her we went back to Smith and they had to adjust again and it worked for us."
Phone: (419)586-2371, Fax: (419)586-6271
All content copyright 2004
The Standard Printing Company
P.O. Box 140, Celina, OH 45822