By Gary R. Rasberry
grasberry@dailystandard.com
NEW BREMEN -- The adjectives used to describe the dominating pitching of Marion Local's Dana Hartings have been all used up.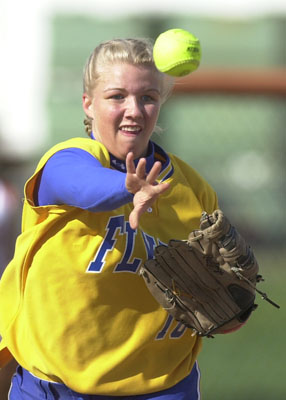 In what has been a typical game for the Flyers senior, Hartings struck out 15 to guide the Flyers to a sectional title with a 6-0 win over New Bremen in the Division IV sectional final at New Bremen on Wednesday afternoon.
Marion Local (12-8) gets a rematch with Fort Recovery, which beat Marion earlier this season, in the district semifinals on Tuesday back at New Bremen.
Hartings started the game with nine strikeouts on New Bremen's first 10 batters. New Bremen was held hitless until the fourth and only had one baserunner get past second base.
"I think you've used them all already, some way, somehow," said Marion coach Gary Moeder trying to find a new way to describe Hartings' dominance this season. "Fifteen strikeouts, I'll take that any day." "Dana is difficult to hit obviously," said New Bremen skipper Craig Griesdorn. "She's had some success and has earned it."
Hartings' pitching circle foe, Julie Griesdorn, had a stat line that a coach would be happy with as well. Griesdorn struck out six and walked just one in allowing seven hits.
The defense was not up to par for the Cardinals as they committed six errors in the game, with Griesdorn having two throwing errors that allowed two runs to come across in the game.
"Obviously, we made more mistakes than they did today," said coach Griesdorn. "Give Marion credit, they have enough offense where they can go a long way."
The Flyers got the run that counted in the second inning. Jennifer Rose dropped a perfect bunt single to start things and Kelsey Schaefer added another single. Rose tried to move to third and made it safely, but the throw to third base was off the mark, allowing Rose to score.
"With a pitcher like Dana Hartings, 1-0 is a big lead," said coach Griesdorn.
The insurance came in the fifth as the Flyers batted around. The big hit came when Rose hit a single with the bases loaded to score Abby Homan and Megan Homan to make it 3-0. Schaefer and Lindsay Dippold added singles to score the other two runs to make it 5-0. A sixth run came across in the sixth.
"We're starting to hit the ball now," said Moeder. "Even if they're little dinkers, they're getting in and the girls are hustling them out. That's one of the things we've been working on all year. It's finally happening."
In the bottom of the seventh, the Cardinals tried to dent the scoreboard when Kelli Steineman singled to lead off followed by a Elly Cisco sacrifice moving Steineman to second base.
Steineman later tried to steal third but Marion's Megan Homan came up firing and got the out. Audrey Micheal became Hartings' 15th punchout, putting her at 248 strikeouts this season, to end the game.
New Bremen (12-6) sees its tournament run end, but the Cardinals still have something to play for. A win against St. Henry tonight clinches a share of the Midwest Athletic Conference softball title.
"I'm proud of the girls," said coach Griesdorn. "We still have something to shoot for. We're still in the hunt for the league title. It's just a matter of going out and playing."
The Flyers now turn their focus to the district semifinals with hopes of gaining a little bit of vengeance on the Indians, who beat the Flyers 4-0 back in April.
"We want a little bit of revenge on that one," said Moeder. "I think that's the one Dana wants the most."
Phone: (419)586-2371, Fax: (419)586-6271
All content copyright 2004
The Standard Printing Company
P.O. Box 140, Celina, OH 45822