By Marc Tobias
mtobias@dailystandard.com
LIMA -- For the second consecutive night, the St. Marys softball team ran into a hot pitcher, and for the second time the Roughriders suffered a defeat because of a lack of offense.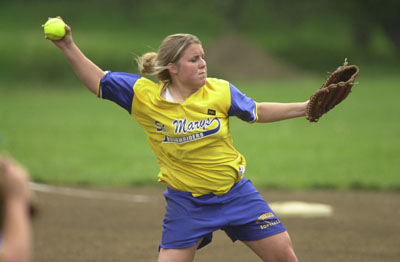 St. Marys has registered just three hits in its last two ball games, but last night's 3-0 loss to Bath was especially tough, knocking the Roughriders out of the Division II softball tournament.
The win gives Bath a sectional crown, and it also helps set up a rematch of last year's district semifinal game when the Wildkittens face Celina at Bath on Tuesday.
The Roughriders mustered just a pair of hits against Bath starter Hannah Rockhold and never had a runner advance past second base.
"Last couple of games we just haven't hit through the ball," said St. Marys coach Sue Grothause. "Their pitcher did a great job, she had us so we didn't know what to swing at. Her changeup was working good against us and she did a nice job pitching to keep us off-balance." Rockhold registered the shutout as she struck out seven and walked just two Roughriders in seven innings of work.
Jessica Enderud suffered the loss for St. Marys, as she too went the distance and allowed three runs (two earned) on seven hits, three walks and four strikeouts.
"I think defensively we played a great game and I think Jessica pitched a super game for us," Grothause said. "She can't do it all out there, she needs some offense behind her and again we just didn't provide any offense for her. But overall I'm pleased with the way we played with them, we stayed in there and Laura does a great job with her team, they're always a tough team to beat."
Early on it looked as if the game might turn into a story of missed opportunities for Bath.
The Wildkittens had the bases loaded with no one out in the top of the first yet failed to score. In the second, third and fourth innings they advanced runners to third base but were also unsuccessful in getting the runs on the board. By the end of four innings Bath had stranded eight runners on base.
"Give credit to the kids, because we've had some close games that we didn't come through but we just kept plugging away and putting people on base and I guess it was just a matter of time and thank heavens Steph came up with that big hit," said Bath coach Laura Ford.
The big hit Ford was eluding to came in the top of the fifth inning, when once again, Bath had runners at second and third with two outs. This time, though, Stephanie Goedde drove a ball to the center-field wall for a stand-up triple that plated both runs.
"Their pitcher did a nice job and she moves the ball well and that had a lot to do with our hitting and not being able to get those key hits, but I guess we got one when it counted and that's all that matters," Ford said.
Rockhold then helped herself by tacking on an insurance run in the top of the seventh with an RBI single that plated Amanda Houchin who had reached on a St. Marys error.
Rockhold then set the 'Riders down in order to end the seventh inning and the game.
"Hannah really stepped up and pitched a great game today, and we have to give them a lot of credit for motivating us," Ford said. "She (Grothause) at the seed meeting put us fourth, and we took that as a personal insult so we wanted to show that we deserved a little bit better then that."
Bath now improves to 14-8 on the season and awaits Celina in the district while St. Marys falls to 15-7.
Phone: (419)586-2371, Fax: (419)586-6271
All content copyright 2004
The Standard Printing Company
P.O. Box 140, Celina, OH 45822