By Margie Wuebker
mwuebker@dailystandard.com
Two men appeared this morning to face felony charges in connection with the attempted theft of anhydrous ammonia and the subsequent discovery of a marijuana grow room and a methamphetamine lab at two locations near St. Anthony.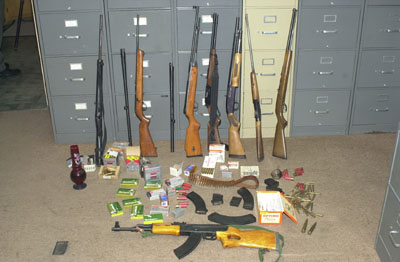 Robert P. Westgerdes, 35, 592 Cummins Road, Fort Recovery, faces charges of illegal assembly or possession of chemicals for the manufacture of drugs, a third-degree felony, and breaking and entering, a fifth-degree felony. Pending misdemeanor charges include theft, criminal trespass and illegal cultivation of marijuana.
A Mercer County grand jury meeting in regular session Thursday also returned indictments against Douglas T. Frericks, 30, who initially listed a Port Clinton address but later told authorities he resided at 405 Benner Road, Fort Recovery. Frericks faces a second-degree felony charge of illegal manufacture of drugs as well as illegal assembly or possession of chemicals for manufacture of drugs and breaking and entering.
The grand jury also returned indictments against three more people. Deputies were in the process of serving arrest warrants at press time.
Deputy Mark Heinl spotted a pickup truck parked near Mercer Landmark, 3911 Burkettsville-St. Henry Road, while on routine patrol shortly after 4 a.m. Wednesday. Frericks apparently was serving as a lookout while Westgerdes allegedly attempted to steal anhydrous ammonia. The toxic chemical, commonly used for agricultural purposes, is a prime ingredient in the production of methamphetamine. The men fled on foot and were located later -- Westgerdes at Siegrist-Jutte and Erastus-Durbin roads and Frericks along Ohio 49.
Sheriff Jeff Grey told The Daily Standard the charges filed against Westgerdes stem from the attempted theft as well as discoveries made during a search of his property. Frericks' charges also relate to the Mercer Landmark incident as well as items found at the Pine Road location.
Among the items seized there were high-caliber ammunition and assorted weapons, including a fully loaded assault rifle capable of firing 45 rounds. The latter weapon was found near a bedroom window while the others were distributed throughout the home.
"They were near windows and doors where occupants could see somebody coming toward the house," Grey said. "We're still in the progress of logging items into evidence."
Investigators believe the lab had been used to prepare methamphetamine but the finished product had been shipped prior to their arrival. Agents from the Drug Enforcement Agency in Toledo are in the process of testing residue found at the scene. Precursors found at the scene seem to suggest more planned activity, according to Grey.
A hazardous material team from Columbus spent three hours removing volatile chemicals from an outbuilding that housed the lab. This marks the second time since November the team has come to Mercer County for such a purpose.
Authorities found a sophisticated marijuana grow room at the Westgerdes home and the remnants of a sophisticated surveillance system. They also seized propane tanks containing anhydrous and a sheathed knife.
"What we located Wednesday seems to confirm earlier suspicions that methamphetamine is being cooked here and then transported out of the county," the sheriff said. "The latest find should slow down related activity until the heat dies down."
Methamphetamine production and use will reach epidemic proportions throughout the country unless law enforcement officers take a stand, according to Grey.
"Methamphetamine is highly addictive and that's what makes the stuff so scary," he said. "People get addicted to a point where they can't eat or sleep. They become paranoid and violent. Methamphetamine has ruined a lot of lives; we want to stop the cycle before it ruins any more."
Phone: (419)586-2371, Fax: (419)586-6271
All content copyright 2004
The Standard Printing Company
P.O. Box 140, Celina, OH 45822