By Marc Tobias
mtobias@dailystandard.com
The Western Buckeye track and field meet got underway last night at Celina High School, and with the majority of the races being semi-final heats most teams were looking to try and position themselves for a shot at the league title on Saturday.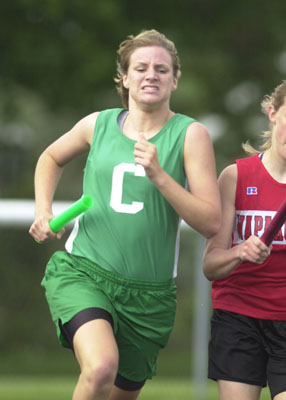 The Celina girls did their part to give themselves a shot at a 16th straight WBL title with a number of solid semifinal performances.
The Lady Bulldogs are currently in third place as they finished third in the 3200-meter relay, the only event that the girls could score points in yesterday.
"We're really pleased with what we accomplished today, we've told the girls over and over probably to the point that they get bored of hearing it, that you can only lose the Western Buckeye League on Thursday, you can't win it," said Celina coach Walt Shreffler. "We wanted to qualify though in an efficient matter and not lose anybody significant and we did that."
Celina's likely top competition for the league title is Ottawa-Glandorf which won the 3200-meter relay while Wapakoneta took second place. St. Marys is another team that hopes to stay in contention on Saturday and it picked up a single point with a sixth-place effort in the 4x800. "O-G is really a worthy opponent, it's probably the strongest team they've had in a long time," Shreffler said. "They beat us twice earlier in the year and we managed to beat them last week in a tri-meet and I don't see anything but it coming down to the wire. I think it's going to be the closest girls meet in many years."
Jenna Schmitmeyer led the way for the Bulldogs as she qualified with the best times in the 200 and 400 while qualifying third in the 100.
Sarah Lange also had a nice day for the 'Dogs as she qualified second in the 100 hurdles and also looks to challenge for a league title in the girls high jump on Saturday.
"We get some good mileage out of some seniors, Brittany Wenning is one of the best mile/800 girls in the conference plus she helped our 3200 relay that PR'd tonight," Shreffler said.
Another area where Celina looks to be strong is in the 300 hurdles where Lindsey Schmitmeyer and Karlyn Pease finished third and fourth to move into Saturday's finals.
Celina's WBL rival, St. Marys, also fared well, and seniors Krissy Haines and Hannah Brautigam helped lead a strong day of qualifying.
Haines advanced in the 100 hurdles as well as the 200. Haines should also score some points in the high jump this weekend and is part of the 800-meter relay team along with Brautigam, Jaz Craft and Emily Hurlburt that qualified second by nine hundreths of a second.
Brautigam also qualified in the 200 and the 400 where she'll be joined by Craft.
"We're looking pretty good, we moved Krissy Haines into the 100 hurdles, we qualified two people in the 400, two people in the 200 and we're coming back strong with our two relays and I think Saturday is going to be a great day for us," said St. Marys coach Dan Cook. "I think we're in good position to make a run at the league title."
Cook said he's also expecting a pair of strong finishes from his two pole vaulters, Erica Bruggeman and Elaine Schaaf.
"We should double score in the pole vault, I'm confident in that and I think we're going to do well in the shot and discus also," Cook said.
Shreffler said he's expecting senior pole-vaulter Laura Snyder to lead Celina's field events this Saturday.
Snyder just broke Celina's school record in the pole vault last week when she cleared 8-feet-6 inches.
Both Celina and St. Marys also qualified their 400 and 1600-meter relay teams for Saturday's finals.
Celina's boys also fared well with their relay teams on Thursday, as the 'Dogs scored four points by finishing fourth in the 3200.
Wapakoneta was able to take a commanding early lead in the team standings thanks to first- and second-place finishes by Brent Burnfield and Matt Brackman in the pole vault.
That duo, along with a second-place finish for the 'Skins in the 3200-meter relay, has them sitting high atop the rest of the field with 26 points.
The closest squad to Wapakoneta is Van Wert which has 10 points because of its win in the 3200-meter relay.
"I think Van Wert has the best running team, unfortunately, they don't have a lot of strengths in the field events, and what might happen is that Wapak could have such a big lead after field events they might not be able to catch up," Shreffler said.
Shreffler did add he was very pleased with how his boys ran, especially in the relay events.
Celina qualified fourth in the 800 and third in the 1600-meter relay.
"I thought our 1600 team really ran exceptional tonight," Shreffler said referring to their time of 3:33.24. "Ryan Byers probably had his career-best split at 52.1 or right in that range, and he's on there along with Andy Ball, Kelly Mallory and Grant Riesen, and they PR'd by several seconds. Our 800-meter relay team also had a season best relay tonight."
Ball, Mallory and Byers are also on the 800-meter team with Michael Barger.
Shreffler also said he thinks Riesen has a good shot at competing for a league title in the 800 Saturday.
"Basically everything that had a green uniform on tonight did very well," Shreffler said. "Even if we didn't qualify to the finals we probably ran our season best. We had a senior pole vaulter, (Andrew Murray) who I'm not sure has ever cleared 10 feet before, and he wound up going over 10-feet-6 inches tonight, so we've had some performances that maybe aren't going to show on the scoring side of the ledger but that really performed well for us, so we're really pleased."
Kyle Vossler was his typical self for St. Marys in the hurdle events. Vossler qualified second in both the 110 high hurdles and 300 hurdles to Brandon Owsley of Wapakoneta, but he should be right there come Saturday.
"We qualified in most events that we expected to, some not though. That puts you behind a little bit but we're happy with most of our times," said St. Marys coach Cory Ahrens.
Ahrens added he likes Michael Doenges chances in the 800 on Saturday as well as some of his field events people.
Nick Fortman already notched three points for the 'Riders by finishing fourth in the pole vault when he cleared 12 feet on Thursday.
Saturday's meet gets under way at 10 a.m. with the start of all of the field events while the running events will commence at 1:30 p.m.