By Marc Tobias
mtobias@dailystandard.com
For the first time since 1988, someone besides the Celina girls were taking home the track and field Western Buckeye League team title.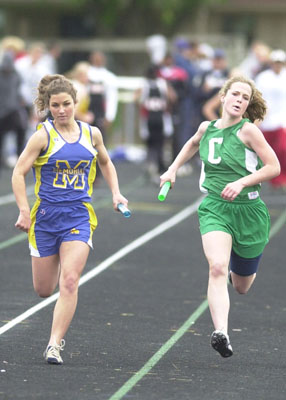 Ottawa-Glandorf scored 106 points to break Celina's streak of 15 consecutive titles, although the Titans didn't have the championship clinched until their win in the final race of the day, the 1600-meter relay.
"I'm kind of numb right now, it's just a great feeling because the league meet is one of the best in the area, and even when you get to districts they have some good teams, but overall this league has been such a great way of preparation for that postseason run," said Ottawa-Glandorf coach Vicki Doty. "I'm pretty happy right now, it's been a long time coming and it feels so great for our senior class because they've worked so hard. It's been just a wonderful season and we just have great kids."
The Lady Bulldogs didn't let the title go without a strong effort, though, and when Lindsey Schmitmeyer and Karlyn Pease pulled a better then expected second- and third-place finish in the 300 hurdles, Celina looked like it might be able to keep the streak alive.
It proved a little too late, though, as the 'Dogs finished second with 91 points. "O-G didn't back into this championship, our goal has always been when it ended, that whoever would win would have to go through Celina to do it and that it wouldn't be a walkover," said Walt Shreffler, the Bulldogs' honorary coach for the day. "O-G had a few better athletes, but I think they used a formula of success that's been successful for us and that's to do well in the field events and try to do something with the hurdles, some distance running and I think that's why they won today."
"I don't know if anyone deserves that much success, but I thought the girls performed exceptionally well and most of the girls this year met and passed our expectations of what we thought they could do this year," continued an emotional Shreffler.
Celina still had its share of good performances as Jenna Schmitmeyer took home WBL titles in the 200 and 400 meters while also finishing third in the 100.
Sarah Lange also placed in four events, as she was second in the high jump and fourth in both the long jump and 100 hurdles. Lange was also part of the second-place 800-meter relay team along with teammates Jenna Schmitmeyer, Lindsey Schmitmeyer and Lindsey Kohnen.
Brittany Wenning finished a fine WBL career for Celina by taking home fourth-place finishes in the mile and 800.
Amanda Smith and Heather Petrie added to a nice day by the Bulldogs' distance core by finishing fifth and sixth in the two mile.
Celina's 400-meter relay team of Lindsey Schmitmeyer, Meg Smalley, Brianna Rumsey and Kohnen finished fourth as did the 1600-meter relay team of Betsy Hone, Lindsey Schmitmeyer, Wenning and Pease.
Wapakoneta finished fourth in the girls standings with 73 points followed by St. Marys with 66, Shawnee 51, Van Wert and Defiance 46, Elida 38, Kenton four and Bath two.
St. Marys also had its share of WBL champions as Erica Bruggeman won the pole vault with teammate Elaine Schaaf coming in second. Celina's Laura Snyder took fifth in the pole vault while Schaaf also took third in the 800. St. Marys also edged Celina for the 800-meter relay title.
Jaz Craft, Emily Hurlburt, Krissy Haines and Hannah Brautigam ran a collective 1:48.85 to claim the win. Craft also took third in the 400 for the 'Riders.
Haines and Brautigam had all-around great days as Haines finished third in the 100 hurdles and 200 while placing sixth in the high jump. Brautigam finished fifth in the 200 and sixth in the 400.
Kerri Imwalle scored in two events for St. Marys as she finished fifth in the shot put and sixth in the discus.
On the boys side, it was Van Wert and Wapakoneta tying for first place as both finished with 107 points.
The Cougar boys battled back in the running events after the 'Skins had built a big lead due to its strong field events.
"It was tough being 30-40 points after the field events, but that's nothing new to us, we've been in that position all season," said Van Wert coach Quinn White. "Our whole focus was to take care of our own business and do what we were capable of doing, and we expected to be in a battle with Defiance and Wapakoneta."
Kyle Vossler had one of the best days for area athletes, as the Roughrider hurdler took home a win in the 110 high hurdles and finished second in the 300 hurdles despite setting a school record time of 39.14.
"Overall it was a pretty good day, I was real happy with my time and I was just happy I could run good," Vossler said. "My goal today was to run a good time and place as good as I could, and today, luckily, it was good enough for first."
Celina's Grant Riesen also excelled as he claimed an individual title by winning the 800 with a time of 2:00.39.
"It feels great to be the league champ, it's been something that I've dreamed of for a long time," Riesen said. "The coaches put trust in me, coach Otten and the other coaches put me into a great training regiment and coach Otten's been telling me that a two (minute) flat was the goal and to finally get there is great. I can't believe I'm the best in the WBL, out of all the 800 runners, it's awesome."
St. Marys' Michael Doenges took sixth in the 800, while Riesen was also part of the Celina 1600-meter relay team that finished third. Kelly Mallory, Mike Barger and Ryan Byers were the first three legs of that Bulldogs' 1600-meter relay.
"Guys ahead of me put it all on the line today. Mallory, Grant and Byers, all those guys went all-out today," Riesen said. "Being last I depend on those guys to give me a lead, and when they did, that it made me want to prove to those guys that I do deserve to be on this team."
Celina finished sixth in the meet with 34 points while St. Marys finished eighth with 26 points.
Other strong finishes on the boys side included Celina's Andy Ball and Nick Uhlenhake finishing fifth and sixth in the long jump while Bulldog teammate Erik Chapin took sixth in the high jump.
Celina's 800-meter relay of Byers, Mallory, Barger and Ball finished third. Ryan Bellman took sixth in the two mile for Celina.