By Nancy Allen
nallen@dailystandard.com
NORTH STAR -- The smell of chicken manure is why a group of neighbors don't want a local poultry operation to expand to more than 1 million birds.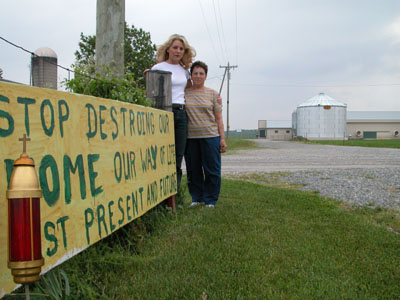 Pam Broering, 5427 North Star-Fort Loramie Road, says she has a petition signed by nearly 30 neighbors who object to the expansion of Ross-Medford Farms LLC, 13803 Ross-Medford Road, located in Darke County.
"This is just two miles west of North Star. People just don't comprehend how how big this is going to be," Broering, 41, said this morning. "People I talk to are worried if they're going to mow the grass ... I'm worried about being able to go outside at 8 o'clock and the smell."
The Ohio Department of Agriculture (ODA) has issued draft permits that could allow the farm owners to construct four barns housing 288,000 laying hens each, a covered manure storage building and a 2 million gallon egg wash storage pond. The farm currently has one chicken barn with the capacity for 183,000 laying hens, and if the permits are approved, the total operation would house 1.27 million laying hens.
Owners listed on the permit applicant are Brian and Kevin Winner, 13324 U.S. 127, Rossburg; Ralph, Chris and Randy Rindler, 342 Beckman Drive, St. Henry; and Kasey and Ronald Schwieterman, 3690 Watkins Road, Fort Recovery. The permits are drafts and must be approved by ODA. Before giving approval, ODA allows residents to submit written comments and air their concerns at a public meeting.
A public meeting for Ross-Medford Farms will be held at 7 p.m. Thursday at the St. Henry Knights of Columbus hall.
Broering said she feels the farm's owners are trying to get around an ODA rule that says the egg wash lagoon must be built at least 2,000 feet away from any residence. ODA spokesperson Deb Abbott said four residences lie within the 2,000 feet, including the Broering residence, which is about 1,600 feet away.
Abbott said the ODA could allow a decrease in the 2,000 feet setback if a proven technology can be added to decrease odor caused by the pond. The farm's owners are proposing adding an aerator to the lagoon.
But Broering claims the aerator is not a "proven technology."
ODA engineer Andy Ety said there currently are no ODA permitted farms in Ohio that use the aerator technology, though similar technology is used in Ohio at city wastewater treatment lagoons. Ety said there also is an egg wash facility in Indiana that uses similar aerator technology.
The aerator would put extra oxygen into the egg wash water, which promotes bacteria to break down odor-causing organic matter in the water, Ety said. Egg wash water contains a small amount of manure and broken eggs, water and egg washing solution.
Also against the expansion is Lucille Monnin, 75, 13806 Ross-Medford Road, New Weston, who lives across the road from the farm.
In a written statement read by her son, Ron Monnin of Fort Wayne, Ind., the Monnins said they have lived at their country home for 45 years and want to spend the rest of their years there. Lucille Monnin fears she won't be able to hang her clothes outside or go out in the evenings due to the odor from the operation.
Abbot this morning said the ODA also has received two written comments about the expansion.
"This is exactly how a draft permit is supposed to work. This is so area citizens can look at this permit and we can explain it," Abbott said. "Many permits change between the draft permit stage and the final permit stage, due specifically to public comments."
Abbott said a final decision by the ODA on whether or not to OK the draft permits would come about two weeks after Thursday's meeting in St. Henry.
The draft permit to install at Ross-Medford farm is to add the four laying hen barns, one covered manure storage building and the egg wash storage pond.
The draft permit to operate would be for the entire farm and would regulate operations with plans for manure management, insect and rodent control, management of dead birds and emergency response in the case of manure runoff that could cause pollution. The farm is located in the upper Wabash River Watershed. The permits would be for five years, after which the permit applicants would have to renew it with the ODA.
All the solid chicken manure would be taken off the farm using a manure broker and the egg wash would be spread on 40 acres of land owned by Brian Winner adjacent to the poultry farm.
The Rindlers, who are part owners of the farm, in March received ODA approval to expand another laying hen operation at 5478 Watkins Road, St. Henry, from 977,000 birds to almost 1.3 million. The other farm owners were not available for comments this morning.