By Ryan Hines
rhines@dailystandard.com
The Coldwater baseball team is talented enough to win against the top competition in the state, but when the opposition makes multiple miscues, the Cavaliers are nearly unbeatable.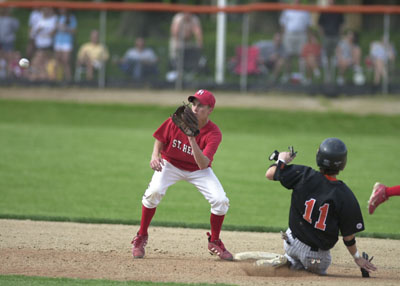 Coldwater (23-3) capitalized on five St. Henry (15-12) errors and two wild pitches to post a convincing 12-2 win over the defending state champions in Division III district semifinal action at Veterans Field on Monday.
After a scoreless first inning, Coldwater took charge of the game in the second inning with the help of some poor defense by St. Henry.
Trent Gerlach hit a routine fly ball to centerfield which was dropped by Brady Schmitz and gave Gerlach the opportunity to advance to second base. Tyler Schwieterman followed by swinging and missing at strike three, but the ball was in the dirt and Matt Kremer's throw to first base was off the mark for another Redskins error.
A fielder's choice moved Schwieterman to second base before Andy Dues threw two wild pitches allowing both Gerlach and Schwieterman to score for a 2-0 Cavaliers lead. "We've had a couple of bad innings this year like the second inning, it was just bad timing tonight to have one of those nights," said St. Henry head coach John Dorner. "You don't win any games when you play that poorly defensively. We should have had six-up and six-down in the first two innings, but instead they put up a six-spot. Championship teams are made with defense and we didn't play defense and it was very costly. We have a better team than our record shows and for whatever reason we came out on the short end."
Matt Howell then ripped a triple to deep right-centerfield, which was followed by a walk to Troy Siefring. Ryan Gerlach, the Cavs' number-nine hitter, then blasted a three-run home run to give Coldwater a 5-0 lead.
The nine-hole was very productive for the Cavaliers on the day as Gerlach was 2-for-2 with four RBI drawing praise from Harlamert.
"Ryan has been hitting like that for us all year long," said Harlamert. "We have good hitters all through our lineup and just because he's hitting ninth doesn't mean he's not a good hitter."
The final run of the second inning for Coldwater came on a RBI double from Dusty Ahrens.
"Our motto this season has been to put pressure on the opposing defense by being aggressive in all facets of the game," said Harlamert. "Once we got the first two runs, I think that we got more and more confidence at the plate. When we scored six in the second inning it took a lot of pressure off of us."
St. Henry mounted a minor rally with a run in the bottom half of the inning. Bryan Post singled, Andy Puthoff singled and Josh Schmackers connected for a two-out RBI single to get the Redskins on the scoreboard.
In the third inning, an Andrew Huelsman walk, back-to-back wild pitches by Steve Wenning and a Chad Geier error accounted for St. Henry's second and final run of the game, but Coldwater was far from done on offense.
Coldwater scored six times over the final three innings to trigger the run-rule after five innings of play. A two-run triple by Craig Wellman, an RBI double by Brent Schwieterman and a solo home run by Howell highlighted the final three innings for the Cavaliers offense.
Steve Wenning, the Co-Player of the Year in the MAC, picked up the win allowing four hits with four strikeouts to improve to 12-0 on the season.
Coldwater is back in action on Saturday at 11 a.m. at Elida taking on the winner of the Patrick Henry-Otsego contest which was postponed due to rain on Monday and is rescheduled for today.
Phone: (419)586-2371, Fax: (419)586-6271
All content copyright 2004
The Standard Printing Company
P.O. Box 140, Celina, OH 45822