By Gary R. Rasberry
grasberry@dailystandard.com
MINSTER -- it was the pitchers' duel many expected at the Division IV district semifinal at Minster's Hanover Street Park.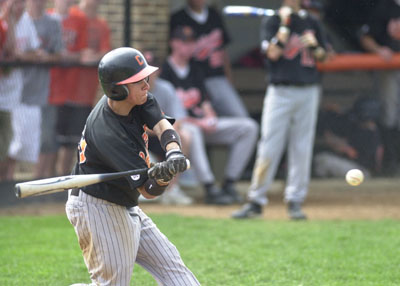 Marion Local's Cory Luebke and Minster's Scott Sherman did their parts in keeping the other team off the basepaths.
It just took one mistake, though, for the Flyers to suffer another hard-luck loss against the Wildcats.
A throwing error in the fourth inning allowed the only run that counted as the Wildcats advanced to the district finals with a 3-0 win over the Flyers.
Minster (18-8) plays the winner of the Antwerp-Crestview semifinal on Friday at Veterans Field in Coldwater. The other semifinal at Convoy was rained out Monday and will be played today. Marion Local, which lost last season 1-0 to Minster in the same district semifinals, drops to 14-8. "I think there is a bundle of emotions right now," said Minster coach Mike Wiss. "It's emotional for the team, it's emotional for me. I will say that I am very proud how we responded to Cory on the mound."
Luebke, the area leader in earned run average and strikeouts, was in form. The Ohio State signee and potential draftee in the amateur draft this summer, struck out 11 and allowed just three hits and two walks in the game.
"I was perfectly happy with the job he did," said Wells, who was an assistant coach for Minster last season during the state tournament run. "We couldn't ask him to do any more."
"My only feeling was that he wouldn't strike out 17 like he did earlier," said Wiss, referring to Luebke's 17 punch-out performance against New Bremen two Saturdays ago. "To compete, you have to put the ball into play and make them make plays. That's what the whole game of baseball is about."
Sherman was even better on the hill for Minster, striking out the first four batters and eight of the first nine outs. Sherman walked three and hit four batters in the game while striking out 12.
"Scott threw a fantastic game. He did a great job," said Wells, who helped work with the Minster pitchers last season. "You can't ask for anything more than what he gave them. ... He made the big pitches when he needed to. They made plays."
"Scott Sherman? Tremendous as far as I'm concerned," said Wiss. "He pitched well. He followed the scouting report to a T. Jon Kaylor (did) excellent work behind the plate. Defensively, we made the plays."
One defensive play made the game in the fifth when Marion posed its biggest challenge to score and, at that point, tie the game.
Troy Luebke led off by getting hit by the pitch and Joe Kemper bunted Luebke to second. Mitch Thobe followed up with a single to mid-centerfield and Jake Luttmer had to dig the ball out as Wells waved Luebke around third. Luttmer came up with a perfect throw to Kaylor, who blocked the plate, tagged Luebke and showed the umpire the ball for the out.
"That was definitely a big play," said Wells. "It was a bang-bang play that could have went either way. It's just unfortunate that it didn't go our way."
Minster got the game-winner in the fourth. With one out, Tim Cordonnier walked which was followed by a Sherman single. On Sherman's single, Cordonnier went looking for third and was safe and Sherman broke on the throw to third as Andy Kuether tried to get him out at second base, but the throw was wide, allowing Cordonnier to score.
Although Sherman made the run stand up, insurance came in the bottom of the sixth as the Wildcats were able to get to Luebke a little.
After a strikeout to Justin Spillers, Kaylor was hit by a pitch and Cordonnier followed with a single to put runners on the corners.
Luebke then uncorked a wild pitch that sent Kaylor home and Cordonnier sprinting to third. Sherman then laid down a perfect bunt that went for a single and brought Cordonnier home.
All Sherman needed was to get the final three outs, although he made it interesting. After getting John Alexander to fly out and Troy Luebke to strike out, Sherman hit Kemper and Thobe before getting Adam Kremer to look at strike three for the 12th punchout of the game.
"It's all about team. It's about us making plays," said Wiss. "I'm pleased that we're going to play Friday. We're happy to be going to the next game. That's how we're going to approach it."